DraftKings Promo Code & Review
Maximize your DraftKings bonus
No promo code required! Just click through our link and get the best possible bonus:
Receive a $3 contest ticket after your first deposit
3 months free access to DraftKings Premium
a $90 value
Click Through this Link to get your Bonus

— How to access your free premium content: Once you have created an account by clicking through the orange button above just add your DraftKings username to your RotoGrinders profile by clicking the edit screen names tab. After that select DraftKings in the Daily Research Console to access your DraftKings incentives content.
— Note on your free contest entry: Your free DraftKings contest entry will be credited to your account immediately upon your first deposit.
———————————————————————
DraftKings was still just a concept when VistaPrint executives Jason Robins, Matthew Kalish, and Paul Liberman left the billion-dollar printing company in early 2012 to pursue the Daily Fantasy Sports site full-time. DraftKings operates out of Boston armed with hundreds of millions of dollars in venture capital and a team fully committed to giving users a 'royal' experience.
Loaded with freerolls, guaranteed prize pools, and regular overlay, DraftKings knows how to attract the Daily Fantasy Grinder. This is definitely a site you'll want in your daily fantasy arsenal.
EDITOR'S NOTE: Still need a DraftKings account? Click here and sign up through one of our links to get a FREE 3-month subscription to Grinders Incentives, our premium DraftKings strategy content (a $90 value) as well as a free entry in a DraftKings contest. No promo code is necessary! Just click here to get started.
This review will cover DraftKings' game offerings, scoring and user experience. We'll also touch on some of the non-game-related features like customer service, promo codes and promotions that you can expect if you play on DraftKings. Watch the video or read on below for full details on what it's like playing DFS on DraftKings.
Game Offerings
DraftKings hosts daily fantasy games for all major sports. This includes daily fantasy NFL, MLB, NBA and NHL, as well as soccer, golf, and college football and basketball. In December 2015, DraftKings became the first major site to offer daily fantasy MMA.
DraftKings offers a variety of salary cap games at a buy-in range starting at free entries and ranging all the way up to $5,200. They have a multitude of league sizes, including heads-up, five-man, ten-man and large-field tournaments (also called "GPPs"), which can have tens of thousands of players. They also offer large field double-ups ranging from 50-200 entries. If you aren't looking to spend any money, DraftKings offers daily freerolls, as well as a huge weekly freeroll to reward their players.
With huge GPPs available for all sports and some unique scoring systems, DraftKings has made a big imprint on the daily fantasy market and will continue to shine as one of the top sites in the industry. Huge prize pools and a variety of contests make this one of the best places to play in the DFS industry.
DraftKings Scoring
DraftKings' roster, rules and scoring settings are excellent and match up well compared to the other industry leaders. Overall, the scoring system for DraftKings typically runs higher than its competitors, which allows for players to put up some monster scores. Most importantly, the scoring systems and roster format feel well-balanced and fair to the players.
DraftKings' MLB roster settings are the most similar to FanDuel's, so many players will already be well-acquainted to this roster approach. The only difference is that an additional, second starting pitcher is required to be selected with the $50,000 budget. There are no utility positions or relief pitchers.
Here's the full breakdown for how a DraftKings baseball lineup would be scored:
Team Rosters
— Rosters will consist of 10 players and must include players scheduled to play in at least 2 different MLB games.
— Rosters must have no more than 5 hitters from any one MLB team.
— The 10 roster positions are: P, P, C, 1B, 2B, 3B, SS, OF, OF, OF
Scoring – Hitters
— Single = 3
— Double = 5
— Triple = 8
— Home Run = 10
— Runs Batted In = 2
— Run = 2
— Walk = 2
— Hit By Pitch = 2
— Stolen Base = 5
Scoring – Pitchers
— Inning Pitched = 2.25
— Strike Out = 2
— Win = 4
— Earned Run Allowed = -2
— Hit Against = -0.6
— Base On Balls Against = -0.6
— Hit Batsman = -0.6
— Complete Game = 2.5
— Complete Game Shut Out = 2.5
— No Hitter = 5
DraftKings' NFL and College Football scoring systems are fairly standard, with the exception of their unique bonuses. Bonuses are awarded to Quarterbacks who throw for over 300 yards, Running Backs who rush for over 100 yards, and Wide Receivers who have over 100 yards receiving each week. The bonus for achieving any of these goals is 3 added points and adds an extra element to the daily games.
The scoring systems for NBA and College Basketball are identical, and the roster format is similar as well. Similar to the bonuses offered in football, players can earn extra points for double-doubles and triple-doubles, which can easily swing the balance of a tight competition.
If you're interested in more info on how to win at DraftKings, check out our general guides in the "DraftKings Strategy" sidebar on the right. Otherwise, let's dive into the actual functionality and experience you'll have if you decide to play on DraftKings.
Interface and User Experience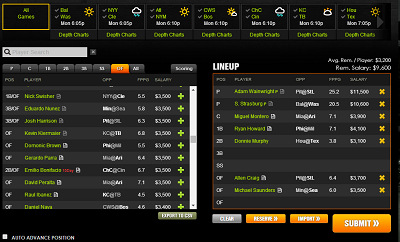 Overall, DraftKings' site is as intuitive as it gets. I have yet to experience many bugs or glitches while playing. It takes only a few minutes to become acquainted with the site and you'll quickly be creating your money-making lineups.
Contest Selection
The lobby might be overwhelming to new players, but is easily mastered after a few minutes of using it. The filtering is top notch and allows users to exclude the content types that they don't care about. The advanced filter can be hard to spot at first, but the usability is excellent once you find it. Trying to spot guaranteed or multi-entry tournaments isn't as intuitive as the color-coordinated approach that FanDuel takes, but this is mitigated by the ability to filter only guaranteed tournaments. You can click on "My Contests" to view Live, Upcoming, or Completed Contests.
Unique formats like DraftKings Arcade Mode continue to roll out to each of their sports, with the NFL version currently in beta testing.
Lineup Composition
The lineup building process was easy to use and looks fantastic too. The player profile pages are some of the coolest available in daily fantasy. They show player stats including recent fantasy point performances. Then, you can see recent play news in a box to the bottom-left as well as sport-related tweets to the bottom right. For example, the Goran Dragic player card shown below has information about Dragic on the left and information from around the NBA on the right.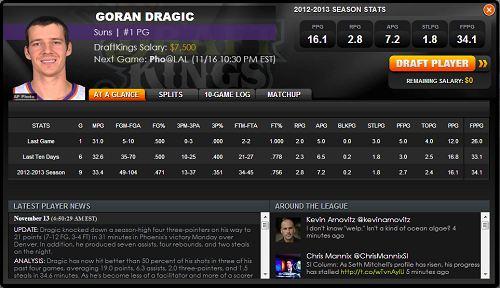 While the player cards look amazing, at times, they are lacking some key information for decision making, depending on the sport. While users are provided with a bevy of information, some of it isn't helpful for daily fantasy decisions and is missing several key features. The following examples apply for baseball, but can be extrapolated to apply to other sports. The information provided does not display the handedness of the batter/pitcher. This is a crucial missing feature, as DFS players will always be looking to exploit platoon advantages. The splits tab is limited to home/away stats, which is disappointing since it could have been a real game-changer if it included more information. The matchup tab only includes a summary level view of the opposition instead of the individual pitcher that the player will be facing.
At the same time, DraftKings provides useful data that some other daily fantasy sites do not. The interactive weather and depth chart elements are unique and helpful for applicable sports. Also, as you build your lineup, DraftKings will indicate how much salary per player you have remaining, which is a very helpful feature.
The "Export to CSV" button allows players to export the salaries into a format that can be manipulated using a program like Excel. This is a huge win for players looking to do some advanced analysis based on player salaries or values. The ability to import or export lineups is also there, a nice touch for players who play with multiple entries or in multiple contests.
All in all, the site interface is a huge win for DraftKings and makes following the action very exciting. They also offer import and export lineup options as well as the ability to "multi-team edit", where you can quickly view all of the players you selected across all lineups and efficiently replace one player in all lineups.
Late-Swap
For the RotoGrinders community, this feature is one of the best the site has to offer. While other major sites lock their rosters when the first game of the day starts, DraftKings allows you to edit your lineups throughout the day until each individual player begins their game. Late-Swap gives players the ultimate control over their lineups and allows them to take some risks that would otherwise be off the table. This feature is a must-have for hardcore daily grinders.
EDITOR'S NOTE: Excited yet? Click here to create an account and start playing on DraftKings. As always, if you sign up through our links, you'll receive free access to Grinders Incentives, our premium DraftKings strategy content, as well as a free contest entry. Just be sure to sign up using one of our links (like this one.) No promo code required!
Mobile Support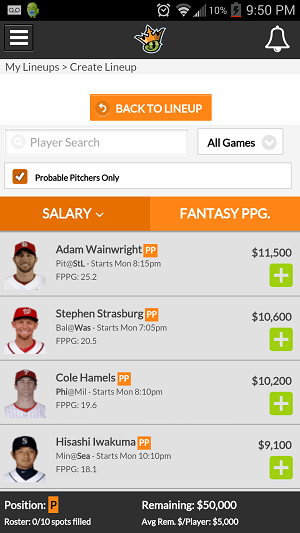 DraftKings also has an impressive mobile experience where you can easily log in, join leagues, see your results, and edit lineups from your mobile device. With all of their sports, users are given an opportunity to edit their players who have not taken the field yet up until their individual kickoffs, so the ability to change out a player on your mobile device is perfect!
Here's a list of capabilities available on DK Mobile:
Contests Lobby Where You Can Enter Events
View "My Account" Information
Deposit Funds
View Contests You Have Entered (Current, Upcoming and Past)
Edit Your Lineups from Mobile Device
Mobile App
In addition to a mobile-optimized website, DraftKings offers a mobile app for IOS users. Versions are available both iPhone and iPad devices. The app is intuitive and makes managing your teams on the fly even easier than ever before! The app mimics the functionality found on the mobile website and features the additional capabilities as well. The list of features is shown below:
Contests Lobby (Updated in real time)
View "My Account" Information
Deposit Funds
View Contests You Have Entered (Current, Upcoming and Past)
Edit Your Lineups from within the app
Invite your contacts to play on DraftKings
Share links to individual contests
The mobile app is the first of its kind and really separates DraftKings from the pack when it comes to mobile usability. The application is updated on a regular basis and should continue to offer must-have additional features going forward.
DraftKings Customer Service
DraftKings is committed to providing its customers with top-level service that is unmatched in the industry. Currently they are available via email (support@draftkings.com), but the site has been rumored to be implementing phone support soon. Their customer support business hours are shown below:
Sunday – 11am-7pm

EST

Monday – 9am-11pm

EST

Tuesday – 9am-11pm

EST

Wednesday – 9am-11pm

EST

Thursday – 9am-11pm

EST

Friday – 9am-11pm

EST

Saturday – 11am-7pm

EST
Rake
If you're going to be playing a lot of daily fantasy games, then you might want to familiarize yourself with the "rake" that sites take. Rake essentially is a commission taken by a site in the form of a small percentage of a contest's entry fees.
DraftKings' rake is fairly standard for what you'll see across the industry. Here is a chart of their rake for Heads-Up Games:
| DraftKings Buy-in | DraftKings Rake % |
| --- | --- |
| $2.00 | 10% |
| $5.00 | 10% |
| $10.00 | 10% |
| $20.00 | 10% |
| $50.00 | 10% |
| $109.00 | 8.26% |
| $215.00 | 6.98% |
| $530.00 | 5.66% |
DraftKings Promo Code and Cashier Options
With DraftKings' corporate background and venture capital, you can rest assured that their cashier comes with credibility. It is important for sites to give its customers a variety of reliable deposit and withdrawal options, and DraftKings does not disappoint. Accepted payment types include: credit cards (Visa, Mastercard, AMEX, Discover), PayPal, and Dwolla. They offer instant deposits and swift payouts! There is a $5 minimum deposit and no maximum withdrawal.
Sign-up bonuses on the site include a free $3 contest entry upon your first deposit. No DraftKings promo code is necessary to access this sign-up bonus. Just be sure to click through a RotoGrinders link when creating your account. If you sign up through one of our links, you'll also receive a comped 3-month subscription to RotoGrinders Incentives, our premium content. That's an additional $90 value, FREE. Just click here to get started.
DraftKings Tournaments and Special Events
DraftKings has stepped up its game by offering several huge promotions recently, giving away millions in prize money. While they have specialized in online-only events, they also offer a number of live final events throughout the year. These live finals offer multi-million dollar prize pools and take place in exotic locations such as Las Vegas and the Bahamas.
Take a look below at some of the huge events that have taken place or are upcoming for DraftKings.
2014 DraftKings Fantasy Baseball Championship
In August 2014, DraftKings gave 50 lucky participants the opportunity to play a one-day fantasy contest. At stake was a whopping $3.3 million prize pool, with the 1st-place finisher receiving a cool $1 million.
The championship package included a championship ticket and a five night VIP trip to Atlantis Paradise Island. Qualifier tournaments could be entered for as little as $2.
DraftKings seems to up the ante for their live finals with each passing season, so it will be exciting to see what's in store for the site's 2015 MLB championship event!
2014 $1 Million Bank Shot
The 2014 $1,000,000 Bank Shot was the largest basketball tournament ever offered by DraftKings. It offered a cool $100,000 to first place. This tournament helped solidify DraftKings' commitment to Daily Fantasy Basketball. Little did we know that just one year later DraftKings would outdo itself with the….
2015 DraftKings
NBA

World Championship

The 2015 DraftKings NBA World Championship is touted as the world's largest daily fantasy basketball finals to date, with a $2 million prize pool. Qualifiers receive a five-day trip to Vegas, as well as a chance to compete for the $1 million grand prize. As impressive as the cash prizes is the fact that satellite tournaments start as low as $0.25!
Fantasy Football Millionaire Makers and Grand Finals
DraftKings hosted the $3.1 million Fantasy Millionaire Grand Final in December of 2013. Qualifiers ran from Week 1 to Week 15, and came to a head with over 2000 entries competing for a one million dollar first prize. This event was a huge success and put DraftKings in the DFS spotlight, firmly entrenching them as one of the industry leaders.
Hosting such a big final took a leap of faith, but the even turned out to be a huge success for DraftKings and the DFS industry as a whole. The site took its success and built upon it.
In 2014, DraftKings hosted the $10 million Fantasy Football Championships. This multi-week series featured a number of "Millionaire Maker" tournaments during the regular season, and culminated with a $3.1 million Main Event.
You read that right. DraftKings made MULTIPLE daily fantasy players millionaires in one-day NFL contests during the 2014 season.
EDITOR'S NOTE: Want to take your shot at winning a cool million? Start playing on DraftKings now. No promo code is required if you sign up through this link.
Super Booster Tournaments
DraftKings' Super Booster tournaments have become fan favorites. They pay out the Top 100 finishers a cool $1000 for an entry of either $27 or $55, allowing players to get rich quick without the need to take down a GPP. If the initial entry fee is too steep, satellites starting at $1 can be found, which allow you to turn $1 into $1000 in a hurry.
Steps Tournaments
The same exciting tournament-style from Online Poker has arrived to the Daily Fantasy scene, thanks to DraftKings. You can jump in at Step 1 for $2.00 and work your way to the top two to win $200 CASH. Steps tournaments are a 4-level series of contests with continually higher buy-ins, peaking with huge cash prizes at the last step. The goal is to advance at each step by winning a ticket to the next level. No need to worry about advancing on your first attempt, as contests also award retry tickets and contests at each step run every day! For the impatient, you can simply buy in directly to any step so you don't have to start at the bottom.

DraftKings Partnerships
Over the years, DraftKings has formed a number of partnerships throughout the larger sports industry. These range from professional franchises, to entire leagues. Read below for details on a few of these agreements.
DraftKings and the World Series of Poker
In May 2014, DraftKings partnered with the World Series of Poker (WSOP) and agreed to serve as the exclusive fantasy sports sponsor of the event. As part of the agreement, DraftKings now hosts exclusive fantasy sports satellites offering free entry into WSOP events, including the 2014 WSOP Main Event in Las Vegas. Satellites to the event could be had for as little as $2, so everyone has a chance to qualify.
Poker and Daily Fantasy Sports have a lot of similarities, so it's nice to see the two industries merge with this partnership.
DraftKings Partnerships with
MLB

and

NHL

2014 saw massive growth across the daily fantasy sports industry. As DraftKings emerged as a powerhouse in the space, it began to compete with other sites (most notably FanDuel) to grow its visibility as much as possible. This included DraftKings forming partnerships with professional sports teams and entire leagues.

While DraftKings has a number of notable partnerships in place, the most monumental agreement came in May 2014, when Major League Baseball announced that the site would become the "Official Mini Fantasy Game of MLB.com." DraftKings followed up this announcement in November 2014 by forming a four-year pact with the National Hockey League to "serve as the Official Daily Fantasy Game of the NHL."

What do you think? We hope this DraftKings review was helpful. If you want to ask other, real daily fantasy players what they think, just make a post in our RotoGrinders Forum.

Otherwise, get started playing on DraftKings by clicking through this link and creating an account!

With recent changes to sports betting laws in the United States, be sure to check out details on DraftKings Sportsbook here.

Enjoy the games!

DraftKings.com
DraftKings is one of the best places to play daily fantasy sports for cash prizes.
Date published: 04/16/2015