Draftpot Review
— Contact support@rotogrinders.com once you create your account to receive your Draftpot Incentives access.
— Your deposit bonus will not be paid upfront. It will enter your account at a rate of 8% of your buy-ins as you play in real-money contests on Draftpot.
———————
In an era of daily fantasy sports dominated by big sites that have long histories of doing things a certain way, it's tough for a new site to break through and grab attention. But Draftpot found a way to offer something slightly different that may catch on with daily fantasy players, but it might not be for everyone.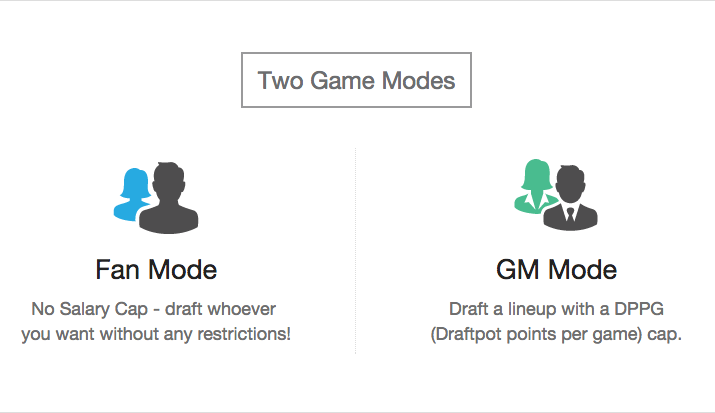 Draftpot is a new daily fantasy site that offers a variety of sports and two different game options: Fan Mode and GM Mode. These two modes define what makes Draftpot different from other sites. Fan Mode is a straight pick 'em with no salary cap of any sort. Just fill out a roster with the players you like, and you're done. GM Mode has a cap to restrict player selection, but it's not a salary cap. Instead, users have to fit their picks under a "Points Per Game" cap, making player selection about finding those who will exceed their averages in their matchups for that day.
So does this new idea for daily fantasy sports hit the mark? Let's take a look at some of the features available on Draftpot to see if this is a site worth checking out.
Sports and Game Types Offered
Draftpot is going to variety right out of the gate, with NFL, NBA, MLB, NHL, PGA, CFB, CBB, and NASCAR games available in their lobby. Each sport that currently has live games has options in both Fan and GM mode, allowing for multiple types of lineups in any sport.
To add even more variety to their game selection, Draftpot is offering League Of Legends contests, making them one of the first sites to offer Daily Fantasy Sports and Daily Fantasy eSports on the same platform. Daily fantasy League of Legends allows for fans of eSports to track their favorite players live in games and earn points for their success on the virtual battlefield of LoL. And while other sites have offered contests for League of Legends and various other online video games before, Draftpot is among the first to offer eSports alongside traditional sports on the same site.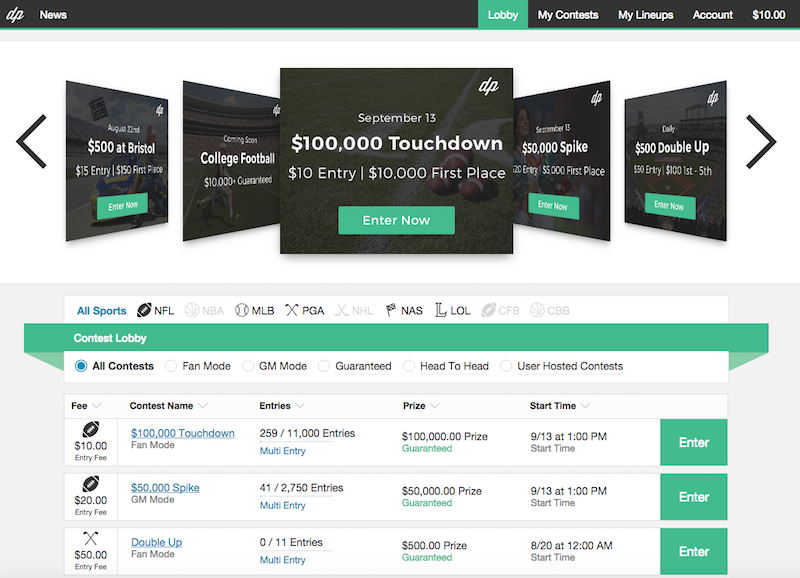 Games span from $2 up into the hundreds, with plenty of double-up contests available, as well as small, winner-take-all contests, and large tournament contests with guaranteed prize pools.
The selection is a bit thin for some sports, as PGA didn't have any big guaranteed contests at single digit prices at the time of this review, but MLB was offering a variety of contests at every price level, with Fan and GM options for nearly every game.
Draftpot Scoring and Roster Rules
Draftpot isn't just unique in the way it structures salary caps and player selection. The roster rules and scoring both stand out a bit from other daily fantasy sites.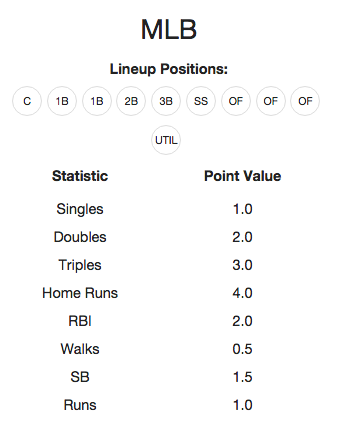 For example, their MLB product does not include pitchers at all. It's a batters-only game with simple scoring, and roster spots for two first basemen and an extra utility spot. Scoring is all positive points, with a point per total base and bonuses for steals, runs, RBIs and walks as well.
The MLB contests allow for up to five players on the same team in a lineup and requires a minimum of three teams to be represented on every lineup.
For NFL, Draftpot offers two flex positions, three WR positions, two RB positions, a quarterback, a tight end, a kicker and a defense. This is a trend across some of their other sports, as rosters are big and require more picks than a lot of other DFS sites. PGA requires eight golfers while NASCAR requires eight drivers.
However, NHL and NBA have relatively small rosters. Hockey requires five forwards, a defenseman and a goalie while basketball requires two point guards and two power forwards, and one of the other positions.
And for the eSports fans out there, League of Legends games require a top lane, a mid, a carry, a support and a jungler, with two additional utility spots.
Lobby Interface
Every new daily fantasy sports website faces the challenge of creating a front end that is visually appealing and easy to use. Draftpot is on the right track in this regard, but there is work to be done.
It's easy to sort games by sport, and by type (head to head, double-up, guaranteed, etc.), but as of the time of this review, it is not possible to sort by both a game type and a salary cap type. For example, if you wanted to play GM Mode head to head games, you can't filter by both of those criteria.
And without a wide variety of filters, the lobby is somewhat tough to navigate. There is no way to filter by entry fee, so finding a cheaper game means sorting prices from low to high and scrolling to find the one you want, for example. But considering Draftpot's relative size to other daily fantasy sites, it's understandable that not every feature is available, and we can expect improvements in this area as the site grows.
The lobby does provide plenty of information about the contests, however, as multi-entry and guaranteed contests are clearly marked, and a bar that represents how full a contest is can help overlay chasers find contests that have money up for grabs near roster lock. There is also a rotating marquee of featured contests at the top of the page, which is useful for finding big contests across all sports.
Lineup Interface
The lineup building process has nearly every feature you have come to expect from a daily fantasy website, and one unique feature that may be of interest to multi-entry players.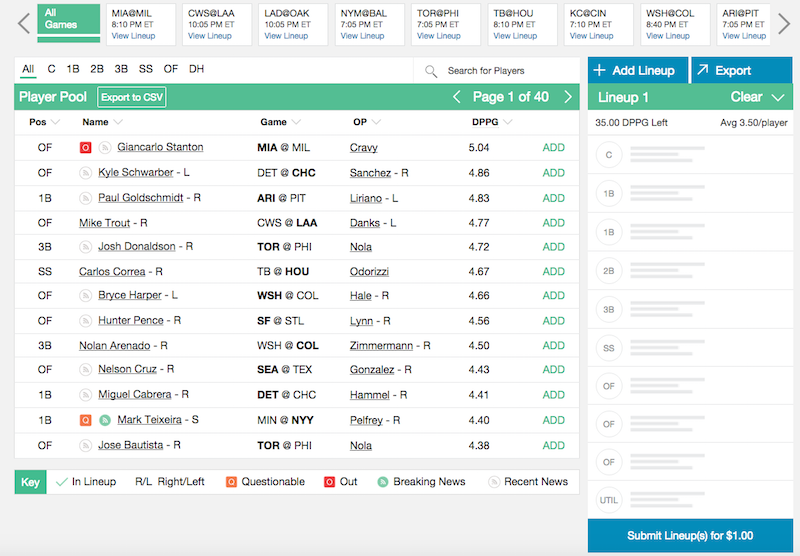 Player statuses and news feeds are available on the player selection screen, as RotoWire provides updates for Draftpot including injury news, status updates, and lineups for MLB. Also specific to MLB is player handedness for both batters and the pitchers they're facing right on the lineup page, which is a quick way to scan for potential platoon values.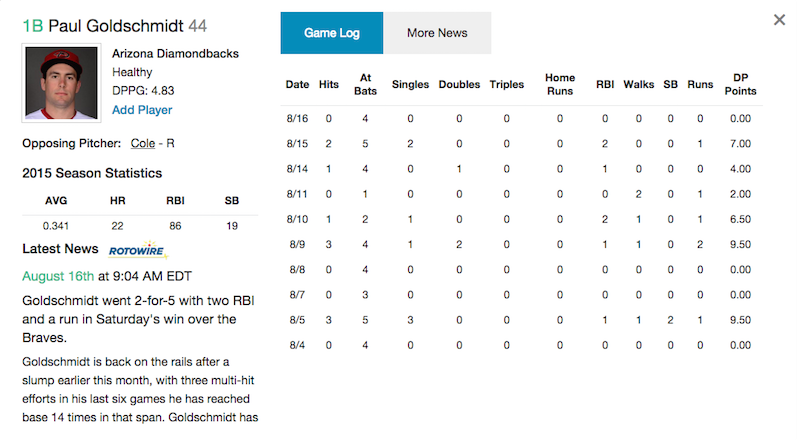 Adding players is easy, and switching out players is easy as well. The layout is a bit big overall and may not fit on some smaller screens, but the experience of finding players you want and getting them into lineups is on par with other sites.
The one element that stands out is the ability to enter multiple lineups into a multi-entry contest without having to go back in and submit a new lineup every time. The "Add Lineup" button allows for a user to have multiple lineups built at once, and submit them all with a single click of a button. For example, if you wanted to build five lineups that stack the Angels, but with different combinations of other players, you could build them all at once, click submit once, and be good to go for that contest.

After clicking submit, Draftpot brings you to an export page that allows for quick entry into other eligible contests. However, there does not appear to be a way to quickly import a lineup, or export a lineup to another contest you've already entered.
However, there is late swap! In sports with multiple games that begin at staggered times through the day, Draftpot allows for editing of players whose games have not yet begun. This is a feature that MLB and NBA players will love, as it helps keep players in the starting lineup on your daily fantasy roster. Draftpot makes it pretty easy to make changes to your lineup right from the live scoring page, and then return to tracking your players.
Cashier Options
Draftpot handles all transactions through PayPal, making deposits and withdraws quick and easy for those who already have PayPal in place, or who have a credit card they can use through the PayPal system. I was able to make a deposit in seconds, and was ready to enter cash contests right away.
Mobile Experience
Everything you can do on your computer, you can do on your phone using Draftpot's mobile website. The interface is modified for mobile, but the experience is just about the same. You can enter contests, edit lineups, and track live contests.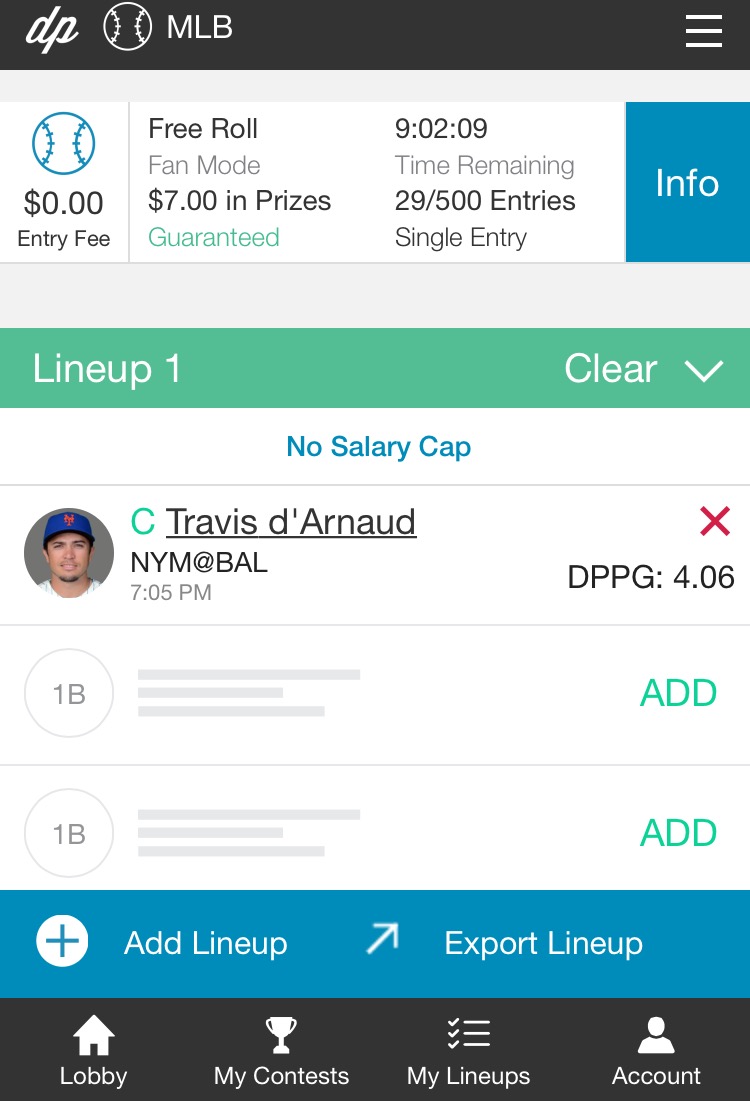 There is currently no mobile app available, but the mobile website works fine and is available to those who need to make changes or track their lineups on the go.
Ready to try Draftpot for yourself? Click here to get started and be sure to use Draftpot promo code GRINDERS when creating your account.