DraftStreet Review and Promo Code
By ezellmt, Last Updated 4 weeks ago
Last Updated: June 18, 2014
DraftStreet Review
UPDATED

July 15, 2014: DraftStreet has been acquired by DraftKings.

Launched in August of 2010, DraftStreet quickly became a leader in the daily fantasy sports industry and remained firmly in the top-3 of the landscape up to the time of their acquisition. Their deep rosters and sharp player salaries provided the most skilled players with an opportunity to gain a better edge.
Game Offerings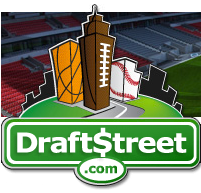 DraftStreet exploded onto the daily fantasy scene in 2010 with a combination of a sleek product, excellent customer service, brilliant marketing, and seven figures of venture funding. DraftStreet features deep rosters and a variety of league-offerings and game-types. In this review of DraftStreet, we'll walk you through everything this site has to offer. DraftStreet has created an excellent variety of game offerings to choose from. In addition to the standard Salary Cap league, they offer several other types of game formats. Pick 'Em games offer you eight tiers of players to choose from, where you select one player from each tier to form your team without any salary cap restrictions. Position eligibility is also not a factor in this game format, and it is your best bet if you want to create a team in about five minutes. Live Snake Drafts are also a favorite among DraftStreet users, and it's essentially the same thing as season-long snake drafts, but they take far less time to complete. Snake Drafts can be done in just a few minutes in the head-to-head format, and take about 20-25 minutes in 6 to 8 man drafts. DraftStreet also offers survivor leagues, which play out like double-ups in a way, but last three days long. Half of the field is eliminated in each of the first two days, and if you are able to make it to day 3, the tournament pays out about half of the field, but does so with much larger payouts (similar to a GPP) than a typical double-up would. They are a lot of fun and are offered for both NBA and MLB.
If you're ready to jump in now remember to click through our links when you create your account. You'll get a 100% bonus up to $200 and free access to DraftStreet Grinders Incentives, which really come in handy on a daily basis. There is no promo code or referral code required.
DraftStreet is the only site I've come across which offers both Daily and Weekly leagues for all sports as well as sit and drafts! They have some of the best GPPs with the largest guarantees in the industry and DraftStreet's game variety is tough to beat. They offer a lot more than just game variety, though, read the rest of our DraftStreet Review for more.
Software and Interface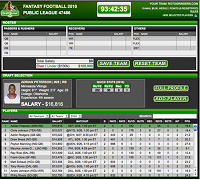 DraftStreet's software and interface is excellent. It is crisp, organized and very intuitive. All of the software functions very efficiently. They offer Live Scoring for your matches that is just superb. It updates in near-real time and is very easy to navigate. If you play many contests in one day, DraftStreet allows you to scroll through and check out multiple contests easily. In addition they have a Player News section that is so well organized you might not need to leave their site when creating your lineups. Boosting my review of DraftStreet is also the fact that you can check all of your players' game logs from within the draft room. For Major League Baseball, you can see which players are starting and sitting as soon as the rosters are unveiled for that day. We can only go so deep for the purposes of this review, but it is an impressive offering. On the other hand, there is one area that could be improved: Live Snake-Drafts. You can't fault them too much for this, because they are offering a feature that most sites do not, but because it is there I have to point out a few flaws in the Live Snake-Draft system as compared to DraftZone's which is probably superior in this aspect. The Live Snake-Drafts have an email notification, but I would like to see an SMS notification to notify you when they are about to begin in case you want to take some time off away from the computer while waiting. Registering for a 6-man Live Snake-Drafts and then needing to be present within 5 minutes of it filling can scare users away from being one of the first to register. They could also use a better queue system throughout the Live Snake-Drafts, but again, I'm so happy that they offer Live Snake-Drafts that I find it tough to mark them down for that in this review.
Mobile Site
DraftStreet was one of the first sites to prioritize the mobile experience for its users. Unfortunately, their competitors have made strides in this area, while the DraftStreet mobile experience has largely remained unchanged. Users often have issues trying to load scores for ongoing contests and are constantly asked to login, even after checking the "Stay Logged In" checkbox. Despite these shortcomings, the DraftStreet mobile site still offers the following features:
Join Leagues + View Active Leagues – Sign in on your smartphone and immediately you are given the choice to join new leagues or view your current leagues.
Set Your Daily Lineups – The best aspect of DraftStreet's mobile site is the ability to actually set your lineups from your phone seamlessly.
Sort Through Available Leagues with the same categories as their actual site! – Whether you want to sort by league size, sport, buy-in or game type, you can do so just like you would from their regular site.
Sort through the player pool by position, team, salary or fantasy points per game – Ready to pick your lineups? Well just like you could on a laptop, you can sort through their player pool by player name, team, position, salary or fantasy points per game.
Export and Import lineups from other leagues – This is the tool that will prove most useful for the DS faithful. Easily export and import your lineups across multiple leagues right from your mobile device.
Follow live scoring from your Active Leagues – Once the games kick off you can see a live scoring feed to all of your games for that evening.
Roster, Rules and Scoring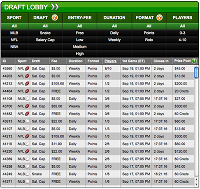 The rosters, rules and scoring for DraftStreet are very well thought out and creative. Unique from most sites, their scoring system is growing on me compare to season-long leagues, and this reviewer's take is to give it a good chance before saying it's too complex. DraftStreet uses more roster spots, and more scoring categorizes, which minimizes the variance you'll encounter from match to match, giving the expert players a leg-up in the competition in the long haul. You have to boost DraftStreet's review when you know that they have the long-term players at the heart of their site design. During MLB season, you'll notice DraftStreet allows for 3 total pitchers (and they no longer force you to use a RP), whereas many Daily Fantasy sites only allow for one pitcher spot. They are the only site that has different scoring for their Daily contests than their Weekly contests. Scoring is calculated based on Current Year stats, Previous Year Stats, Season Performance, and Recent Performance. For more information on DraftStreet's Roster, Rules and Scoring visit the tab at the top of this DraftStreet Review page or check out their interview with us.
Customer Service
DraftStreet has one of, if not the, best customer service setups in the industry. Every email is replied to professionally and promptly, they even have a 1-800 phone number that is answered when called (which, yes, I tested just for the sake of this DraftStreet review…), and they also have a LIVE CHAT BOX just for questions you might have running all day. For instance, in early December of 2013, the Spurs vs. Timberwolves game was cancelled because of a fire in the arena, which no one could have foreseen and caused a lot of displeasure with DFS players who used any of those players that night. While this was clearly no fault of their own, DraftStreet provided $7,500 of added overlay into special GPP's for the following night. They care about their player base and understand that they DFS industry is much more competitive now, so they make sure to take care of the loyal following they have developed. And we're not just saying that for the sake this review, one of DraftStreet's users even got a DraftStreet Tattoo in part because he loved DraftStreet and their customer service so much. Their Customer Service department provides added intangible value to the experience and provides hope of future improvements to come. With a player base only rivaled by FanDuel and DraftKings, DraftStreet continues to grow upon it's loyal player base. They were one of just three DFS sites to offer a multi-million dollar football championship, with $1,000,000 going to the first place finisher.
DraftStreet Rake, Bonuses and Promotions
DraftStreet's Rake Percentages by League Size
DraftStreet H2H
Total Prizes
Total Buy-Ins
Rake %
$5
$9
$10
10.0%
$11
$20
$22
9.1%
$22
$40
$44
9.1%
$55
$100
$110
9.1%
$109
$200
$218
8.3%
$215
$400
$430
7.0%
$420
$800
$840
4.8%
DraftStreet 10-Man
Total Prizes
Total Buy-Ins
Rake %
$2
$17
$20
15.0%
$5
$45
$50
10.0%
$11
$100
$110
9.1%
$22
$200
$220
9.1%
$55
$500
$550
9.1%
$109
$1,000
$1,090
8.3%
$215
$2,000
$2,150
7.0%
DraftStreet

GPP

s
Total Prizes
Total Buy-Ins
Rake %
$2
$2,000
$2,200
9.1%
$5
$2,500
$2,750
9.1%
$11
$5,000
$5,500
9.1%
$55
$7,500
$8,250
9.1%
$109
$3,000
$3,270
8.3%
$215
$12,000
$12,900
7.0%
Street Creds
Not only is the rake already above-industry-average, but DraftStreet also offers the StreetCred store, which depending on how you use it, can add an additional 0.5% deduction from the rake! The Street Cred store gives DraftStreet another notch up in their Review, as it provides a loyalty reward system to the Grinders on DraftStreet. As you play games on DraftStreet, you'll earn Street Creds (think frequent player points), and you can exchange them for Vouchers to play in cash contests for free (hence the 0.5% discount), Hats, Pens, T-Shirts, Hoodies, and more! They have also added the "Street Cred Multiplier," which can earn you up to 5x the Street Creds you accumulated in a single month depending on how much you've played. This has to be the best rake-back opportunity in the industry.

Also, DraftStreet Sign-Up Bonus Code Promotions are being offered to RotoGrinders Members. Sign-Up with the DraftStreet review link above and receive a massive 100% Deposit Bonus. Draft-Street's Sign-Up Bonus is usually only 20%, so make sure to take advantage of this offer and join through RotoGrinders.
Cashier
DraftStreet's Cashier allows you to deposit through PayPal, eCheck, Visa, Mastercard, AMEX, and Discover. You can cashout via PayPal or Check; checks take 10 days to deliver. With this many options and top of the line speed, it is safe to say that DraftStreet's cashier services are excellent.
If our DraftStreet Review didn't answer all your questions feel free to ask more in the forums. If you're ready to sign up remember to click through one of our links to get the best bonuses – no promo code or referral code needed.