Fantasy Feud Review
Maximize your FantasyFeud bonus
If prompted, use promo code: GRINDERS
Use this promo code and get the best possible bonus:
100% deposit match
up to $500
The highest bonus FantasyFeud offers!
1 year free access
to FantasyFeud Incentives
a $180 value
Click Through this Link to get your Bonus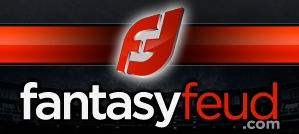 — Contact support@rotogrinders.com once you create your account to receive your Fantasy Feud Incentives access.
— Your deposit bonus will not be paid upfront. It will enter your account at a rate of 5% of your buy-ins as you play in real-money contests on Fantasy Feud.
——————————
Fantasy Feud Review
Fantasy Feud Review provides all your Daily Fantasy needs, and then some. The all-encompassing site has an amazing user experience that allows you to chat, challenge, and play with anyone on the site. Use our exclusive Fantasy Feud Recruiting Code: GRINDERS to join, and here's what you can expect at Fantasy Feud:
Game Offerings
Fantasy Feud has done an excellent job with their game offerings, providing the right balance of variety without causing overwhelm. There are three main game-types at Feud: Salary Cap, Snake Draft, and Pro Pick'Em. Salary Cap games are what you've grown to know and love in Daily Fantasy, and are very well done. The rosters are spacious. In NBA for example, you get 3 guards, 3 forwards, 2 centers and 2 flex spots. This is more roster spots than any site we've seen to date. You get a $1,000,000 salary cap and the players are competitively priced.
Snake-drafts haven't taken the Daily Fantasy industry by storm quite yet, and are mainly viewed as a draw for new players. That could change with Feud's Snake Drafts, in the way they are combined with their excellent social features. It's so easy to get a game going with anyone via the chat challenge features (explained below), and then you're locked in and ready to go. The Snake Draft room is solid with the ability to easily sort, queue and build a team in real-time vs. your opponent.
Fantasy Feud also offers the Pro Pick'Em, a hybrid of sorts between the two prior mentioned game types. In this game, you have 10 groups of players, each categorized with other players of similar pricing. You can choose one, and only one, player from each group. It's a great way to draft a team quickly and get in on the action!
Lastly, Fantasy Feud has added Double-Up or 50/50 Split games as well as GPP's 7 Days a week. Also, Fantasy Feud is offering a daily $25 free roll throughout the entire MLB Season!
Software and Interface

Fantasy Feud takes your Daily Fantasy experience to the next level with their software and interface. To fully understand what I mean, I think it's important to understand that there are two main aspects to key-in on when using Fantasy Feud: The interface and the "social bar", as Feud likes to call it.
Interface – The interface is what you're used to with your Daily Fantasy experience. It's how you deposit, build your team, watch your team dominate in live scoring, then cash out. Fantasy Feud's interface is most comparable to DraftStreet's. You can select filters in the lobby for all of your game and buy-in preferences, then scroll through the lobby to enter your drafts or pick away at the competition. Their are easy-to-locate tabs for all aspects of the site. The load times are quick and the layout is very intuitive. Overall, it's a very solid Daily Fantasy experience.
Social Bar – The social bar is something you may or may not be familiar with. It's very innovative in terms of Daily Fantasy, and is most similar to the toolbar on DraftZone. The 'social bar' amps your experience by integrating the following features into your drafting experience:
Live Chat Room
Private Chat Tabs
League News and Availability Scroll Bar
Personal Alerts
Personal Message Center
How To Video link and Social Links
When the interface and the 'social bar' fuse together, it makes for an incredible and unique user experience. For instance, this isn't your ordinary chat room. You can social chat with the group, but if you wanted to you can directly message or directly challenge anyone who is signed on to a match. If you directly message them, a new tab appears in the toolbar allowing you to converse with anyone on the site over time, and have a history of the chat to refer back to.
If you're sick of talking it out, you can challenge someone, in the most efficient of fashions. Someone says they're better than you in chat? Find their name, hit challenge, pick the sport, pick the game-type, pick the buy-in, and issue them a challenge. They get a notification to join the challenge, you draft, then get right back to business chatting in group chat or researching your picks for the day.It's time to put your money where your mouth is! Some sites are scared of personal interactions for security reasons, but Fantasy Feud Review embraces them. Security reasons aside, it makes for an incredibly fluid and unique Daily Fantasy experience.
In addition, a nice feature that users will really appreciate, is that you can view your opponents, their performance, and thier record vs. you prior to even joining a competition! Just hit the info button next to a contest, then the green button next to a username, and you can see what to expect of your opponent before joining (see image above). After you compete, you can track your performance in your account area. Fantasy Feud provides you sortable details of how many games you've won, lost, your gross earnings, your avg. score by sport and more!
Import and Export Features
Fantasy Feud Review has added an import and export feature for those of you who like to play lots of the same lineups across multiple leagues. The Import/Export option is available in every draft lobby and adds your favorite team for a given night to any compatible league(in terms of salary set up).
They also have a Universal Editor Tool which allows players to seamlessly insert and remove players in one touch of a button to an unlimited number of rosters. To read more about their Universal Editor Tool, check out this article.

FANTASY

FEUD

RECRUITING

CODE

: "

GRINDERS

" – 100%

BONUS

UP TO $500
Roster, Rules and Scoring
The rosters are excellent for Fantasy Feud. Grinders continue to trend towards preferring deep rosters with less overlap, and that's what Feud provides. Their rosters are the deepest in the industry and their pricing structure is competitive enough to prevent overlap.
As for the rules and scoring, Fantasy Feud's settings are unique, but most closely resemble DraftStreet's. Most noteworthy is that the NFL scoring is pretty consistent fron site to site, NBA scoring rewards Rebounds and Assists higher while penalizing for missed free throws, and MLB doesn't overly reward pitchers for their wins.
Check out all the roster formats and scoring systems on the Scoring Systems tab for the FantasyFeud Review.
Customer Service
Fantasy Feud's Customer Service is excellent, and it's obviously been a focus of theirs from the way the site is organized as right next to your username are two links: 'Support' and Feud's 1-800 phone number. Don't feel like calling them? The chat box is usually filled with multiple customer service reps labeled with a "FF" in front of their name. Still not enough? Theirs a feedback tap on the side of the site, an extremely thorough FAQ, and a built-in message center where you can reach their reps directly. Excellent customer service.
Notifications System
Fantasy Feud has added an options page for notifications regarding your daily and weekly leagues. Users can choose which emails they want to receive, and how they want their privacy settings to be organized on the site. Users can now decide if they want to get an email before their games with a 'lineup refresher', an email after winning a game and much more.
Fantasy Feud Rake, Bonuses and Promotions
Fantasy Feud's rake is already priced in a system that scales down from 10% at the lower buy-in levels to 5% rake when you reach the $500 buy-in levels.
Here's a look at their basic Rake Setup:
| FantasyFeud Buy-In | FantasyFeud Rake % |
| --- | --- |
| $1.00 | 0.10 |
| $2.20 | 0.09 |
| $5.50 | 0.09 |
| $11.00 | 0.09 |
| $22.00 | 0.09 |
| $33.00 | 0.09 |
| $55.00 | 0.09 |
| $77.00 | 0.09 |
| $109.00 | 0.08 |
| $215.00 | 0.07 |
| $525.00 | 0.05 |
Bonuses
When you use the Fantasy Feud Recruiting Code: GRINDERS to join Fantasy Feud , you get a 100% bonus on your 1st Deposit up to $500! Pretty sweet, eh? Only a handful of sites offer a bonus % this large, so make sure to use the Recruiting Code GRINDERS to take advantage of it!
The Store
If the freerolls weren't enough, you also have access to use your hard-earned points to earn anything from a tournament ticket to an iPod. That's right! Their store is reminiscent of some of the online poker store's. You can exchange your 'FF points' for anything from a $1.00 game voucher, to Madden for XBox, to a DVD copy of slap shot, all the way up to an iPod.
Cashier
Fantasy Feud's Cashier allows you to deposit through PayPal, eCheck, Visa, Mastercard, AMEX, and Discover. You can cashout via PayPal or Check; checks take 10 days to deliver. With this many options and top of the line speed, it is safe to say that Fantasy Feud's cashier services are excellent.
On your first deposit, remember to use the Fantasy Feud Recruiting Code: GRINDERS to get your 100% deposit bonus!
If our Fantasy Feud Review didn't answer all your questions, feel free to ask more in the forums!