FantasyAces Promo Code
Maximize your FantasyAces bonus
If prompted, use promo code: GRINDERS
Use this promo code and get the best possible bonus:
100% deposit match
up to $500
The highest bonus FantasyAces offers!
1 year free access
to FantasyAces Incentives
a $180 value
Click Through this Link to get your Bonus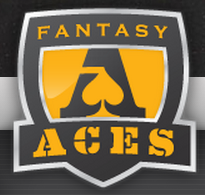 — Contact support@rotogrinders.com once you create your account to receive your FantasyAces Incentives access.
— Your deposit bonus will not be paid upfront. It will enter your account at a rate of 5% of your buy-ins as you play in real-money contests on FantasyAces.
————————————-
FantasyAces is a California-based daily fantasy sports site with a very business-like feel to it. The site design is impressive and the game offerings are pretty standard for the DFS industry. Where FantasyAces thrives is their responsive design, which allows users to see the same site on all platforms including mobile and tablets. Essentially, the site will shrink itself to fit to your screen size and run at the same capacity as if you were on your computer without requiring an app.
Check it out for yourself and sign up now. If prompted, use FantasyAces promo code "GRINDERS".
Signing up for FantasyAces through one of our links will get you get a 100% deposit bonus, up to $500. Plus, if you use promo code "GRINDERS", you'll also receive a free, one-year subscription to FantasyAces Incentives, our premium strategy content. That's an additional $180 value, FREE!
Click here to create your account, or read on for our full FantasyAces review.
Game Offerings
The games available at FantasyAces are straightforward. However, there is one interesting addition never before seen in daily fantasy.
Salary Pro Leagues
FantasyAces offers standard salary cap games, which DFS players have grown accustomed to with a set salary cap and a roster structure you must fill within said cap.
The other offering is their Salary Pro games, which have been a big hit with FantasyAces members. These games combine the basic concepts of salary cap leagues with increased skill by essentially creating a "flex" salary cap. For example, MLB games have a set salary cap of $50,000. You have a 10-man roster to fill out with that $50,000. But you can go over or under that salary cap if you so choose and receive bonuses or penalties for doing so.
Salary

BONUS

– Every $50 Under the Salary Cap – +0.1 Fantasy Points to Total Score
Salary

PENALTY

– Every $50 Over the Salary Cap – (-.20) Fantasy Points to Total Score
This adds another factor to your decision-making process and also offers an out for those days when you need a few more dollars of cap space to make your perfect team. Now, rather than blowing your team up and making a series of changes, you can choose to go over the cap and accept the penalty. You can also build a cheap team if you see a ton of value on a given night and benefit from the bonus. It's a very fun and unique way to play, but don't expect to win if you don't put in some solid research for the day's games; this format is especially appealing for players willing to dig deep to find value.
Survivor Contests and Qualifiers
FantasyAces has also unveiled Survivor contests, which run similar to survivor tournaments at other outlets across the industry. The main FantasyAces survivor contest for the 2014 MLB Season is the "Aces Survivor Championship," which is a four-day survivor tournament. FantasyAces has also began to run qualifiers for some of their bigger contests, to allow lower-stakes Grinders to have a chance to play some high-stakes action.
Payout Structures
FantasyAces offers a number of payout structures to engage the true Grinders as well as those who like to go for the big payouts night to night:
50/50 Leagues – Top Half of the Player Pool Gets Paid
H2H – One on One Heads Up Games
Triple Play – 3-man contests where Winner Takes All
Winner Take All – Varying sized contests where 1st wins the entire prize pool
Top 2 Paid – Contests paying out top-2 finishers. 1st gets 65% of prize pool. 2nd gets 35%
Top 3 Paid – Contests paying out top-3 finishers. 1st gets 50% of prize pool. 2nd gets 30% and 3rd gets 20%
Tournament – Contestants between 50 and 500 where the top 10%-20% are paid out
FantasyAces "Scout"
This is a really cool feature. FantasyAces has a customizable player grid for each sport for you to research players you want to draft. This will give you the ability to analyze professional athletes performances for football, baseball, and basketball more thoroughly by breaking down every statistical category. But that is only part of it… Not only do you have all the major stats available to sort through, you can also research specific time periods. When using Fantasy Aces Scouting System you will be able to save players to your very own fantasy scout list. After doing your statistical research you will be able to save players to your very own scout list. This list will then seamlessly transfer over to the draft page.
So when you are drafting your fantasy football roster on Sundays or hitting the daily grind with fantasy baseball and basketball, you will now have a customize list of player that you have personally scouted. There will simply be the added feature of viewing your scout list from the draft just like you would do if you only want to view Quarterbacks for your football draft. There will now be a SCOUT tab so you can focus on selecting your fantasy players from this list you customized from our scout page. This tool can become lethal to your fantasy opponents, especially if you take the time to find players that are on a hot streak but are still priced out with a cheap salary. If you play the ground-breaking SalaryPro format then the Scout feature will work wonders for you!
Software and Interface
The interface created for FantasyAces is a dynamic site design that, as mentioned above, allows users to access all site features on any platform or device. The home page is easy to use, with the game lobby being readily available. Within the game lobby, filters can be used to sort through any of the following categories:
Game Type – Salary Standard or Salary Pro
Payout Structure
Number of Entrants
Buy-In Levels

The draft room could be improved with better player cards and a condensed view, but it certainly is appealing to the eyes. While the addition of a "field" – essentially the playing surface like an MLB Diamond with the positions available and your players selected visible – looks good for drafting your team, it makes the overall draft room too large and it can be difficult to stay organized. This FantasyAces Review would like to see that page condensed so you can draft your players in a more concise area. However, the sortable stats they've added is a nice improvement and they have definitely taken steps in the right direction with the draft rooms since their launch, which brings even more optimism for the future.
Mobile Offering
The Mobile Offering at FantasyAces is one of the best in daily fantasy thanks to their dynamic design. The site that you can access on your laptop transitions seamlessly onto your phone or tablet. The Mobile Site is not a simplified version of their standard site, but rather a smaller version with all of the same capabilities. Take a look at some of the screen shots below to see their home page and draft lobbies from a mobile smartphone.
FantasyAces Dynamic Site Design: Game Lobby on Mobile Device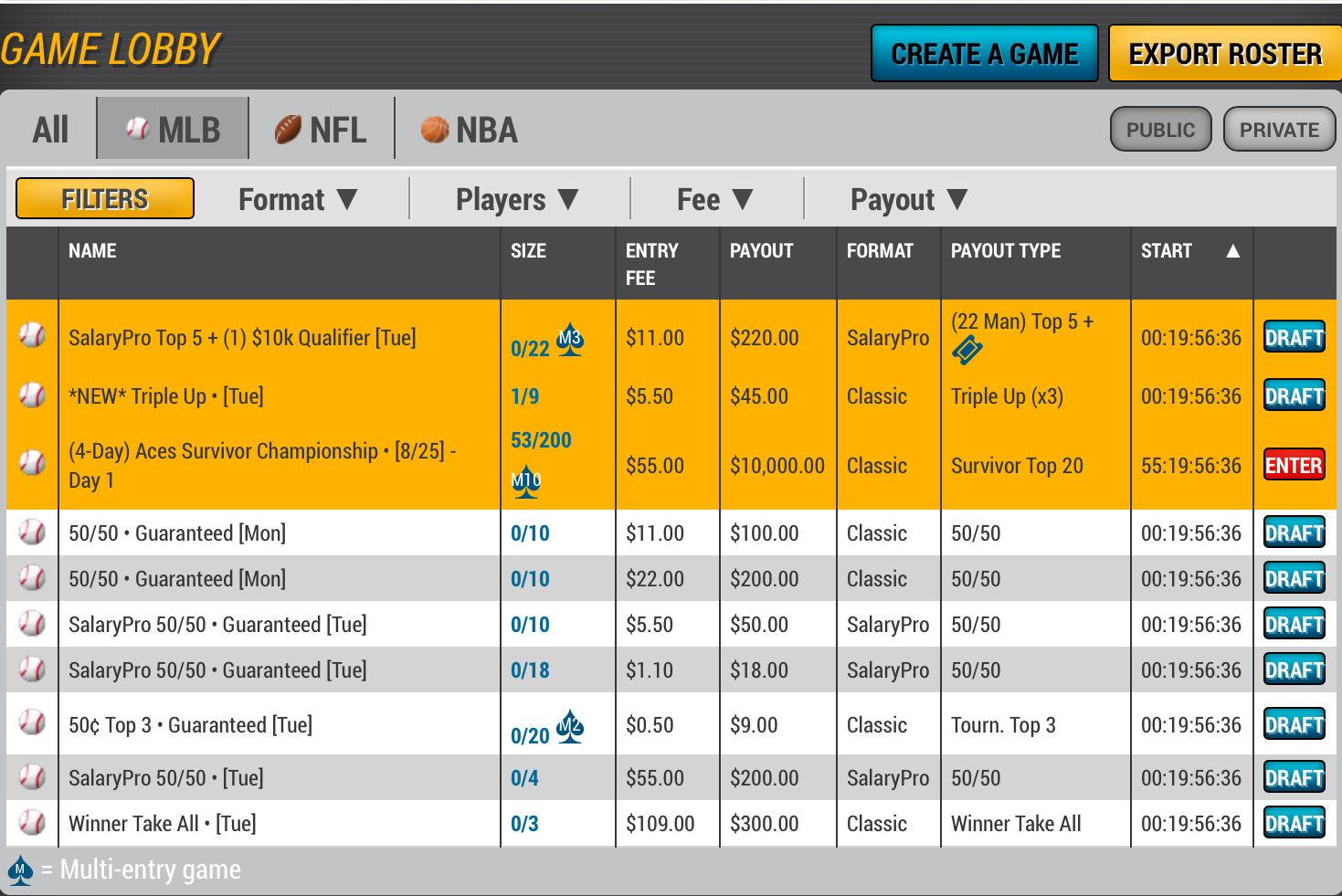 FantasyAces Dynamic Site Design: Draft Lobby on Mobile Device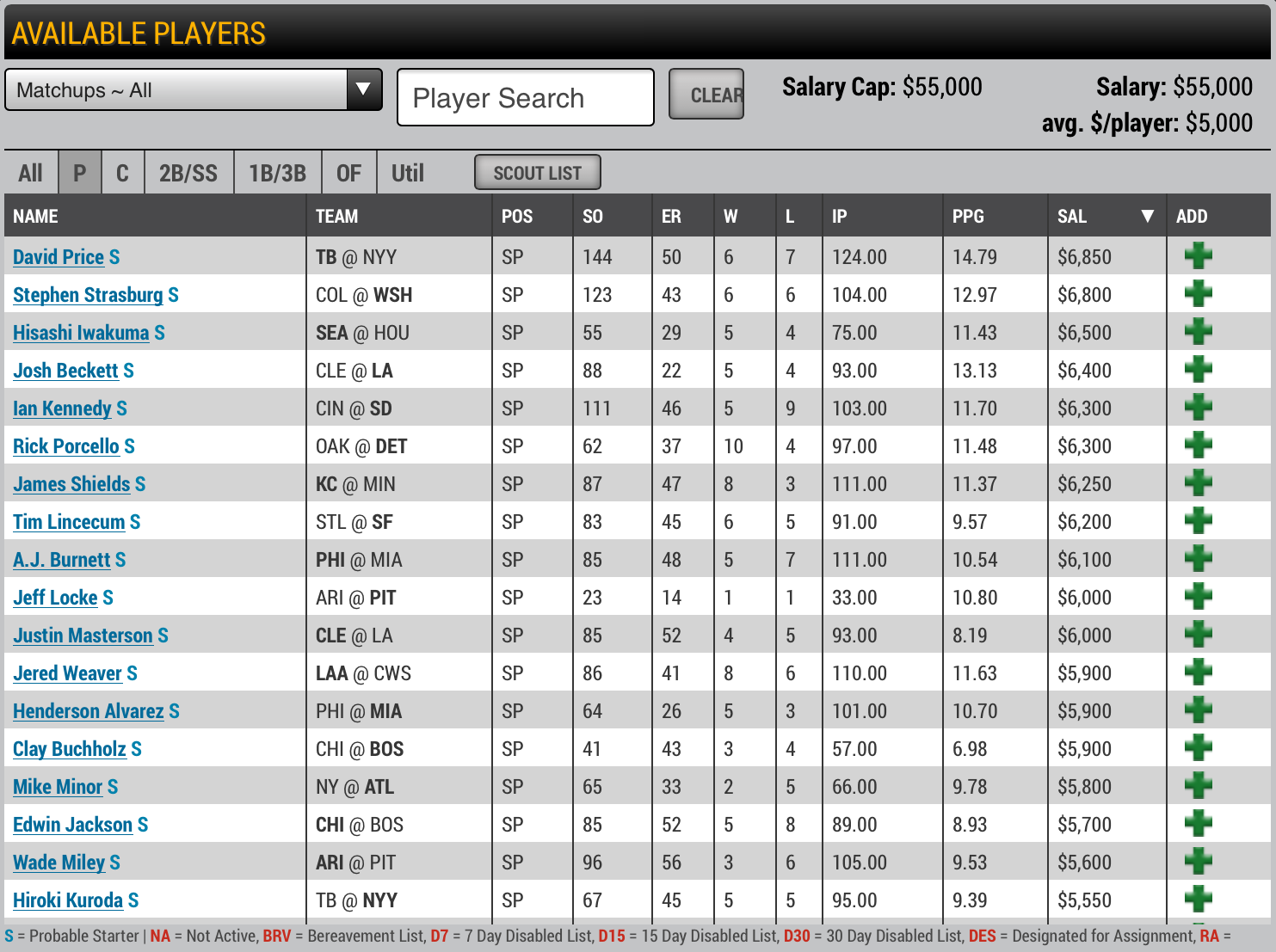 Rake and Cashier
The rake at FantasyAces is set between 6.5% and 10%, which is roughly the industry standard. This is an improvement from the site launch, when they were offering 10% rake across all leagues/buy-in levels.
There is a $5 Minimum Deposit at FantasyAces and you can deposit via PayPal.
Monthly Wins Bonus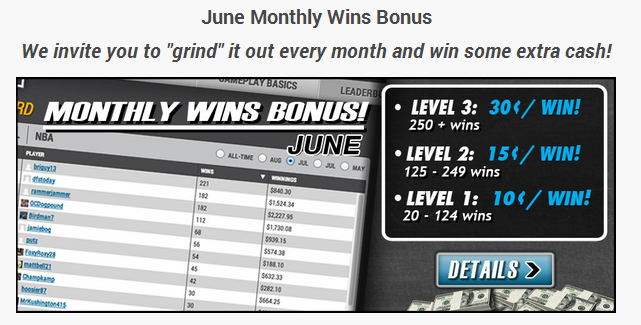 Once you've reached 20 wins for the month, FantasyAces pays you a bonus for each win you register after that point. It's basically like your boss giving you a bonus once you've met your quota for the month, and this is a great potential rake-back for high volume players.
Level One: Between 20-124 wins, you will receive an extra 10 cents per win.
Level Two: Between 125-249 wins, you will receive an extra 15 cents per win.
Level Three: Once you've reached 250 wins for the month, you'll receive an extra 30 cents per win.
Definitely check out FantasyAces today and test out their Salary Cap Pro leagues as well as their dynamic site design. These two features are what make FantasyAces a viable contender in the daily fantasy market. Sign up now for a 100% exclusive RotoGrinders Deposit Bonus up to $500 plus a free, annual subscription to Grinders Incentives. If prompted, use FantasyHub promo code "GRINDERS".