FanThrowDown Review
By Ethan, Last Updated 11 months ago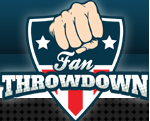 FanThrowDown is a daily fantasy sports site with big ambitions for future growth. The foundation of FTD is their software and interface as well as many different styles of game-play. While the GPPs are a bit lacking, the site is still very new at the time of this FanThrowDown Review. Check out our review for full details on FanThrowDown's deposit bonuses, game offerings and software breakdown.
Sign Up Now For FanThrowDown and Receive Your 100% Deposit Bonus
Software and Interface
FanThrowDown based their software and interface design on a combination of FanDuel and DraftDay. You can tell from the moment you enter the site that their design has a slick feel to it. The main toolbar offers 8 options. The first option is "Matches" where you can view all of your current, upcoming and past daily fantasy games. Then there is the "My Account" option where you can custom-edit an avatar and view other account information such as email preferences. The next few are breakdowns of FTD rules including a "How it Works" and "Rules and Scoring" section. They also have a "Leaderboard" where you can see how you stack up against other site members. Last, they have "Support" and "Forums" where you can get any FTD-related questions answered for you.
Game Offerings
FanThrowDown offers a ton of daily fantasy variety including Pick Em, Target Games, and "Over/Under" games. Their game lobby is loaded with filters for game type, sport, buy-in, entrants, payout structure, start time and duration of game (i.e. weekly, daily etc.) While the variety of game offerings is nice, it can be a bit overwhelming to a new player trying to learn the ropes of daily fantasy sports. Buy-ins range from free to $1000 H2H leagues. The GPP offerings are a bit scarce at the time of this FanThrowDown Review though.
There is also an option to create your own private or public league, which can be great for gathering a group of friends and playing together. You can create a league at any buy-in level for up to 20 entrants. You can also decide on payout structure, game style, and even name your league.
Draft Lobby
The FanThrowDown draft lobby shows all of the scoring and prize rules for each tournament at the top of the page along with a fun diagram of the position breakdown for each sport. The draftboard itself is pretty straight-forward and their salary structure while not easy to build around is not the most challenging in the business. You can sort through player options by game and position and then sort further by Player Name, Fantasy Points Per Game, or Salary.
One great feature at FanThrowDown is their player cards in the draft rooms. Click on a player's name and you will see a plethora of information including home/away splits, last game stats, season stats, and player news. FanThrowDown takes it further though with full opponent-matchup breakdowns, more in-depth split statistics, more in-depth recent game information and career stats. The available information on these player cards is awesome for building your team without having to travel too far for research info.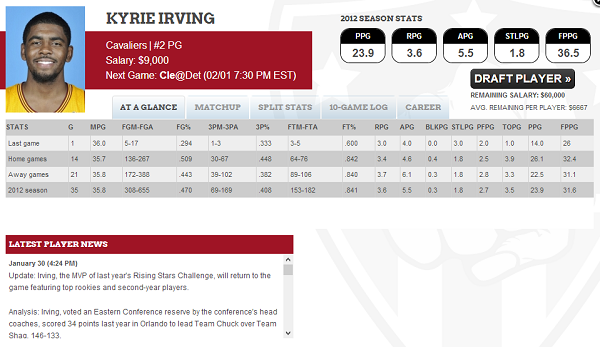 Roster, Rules and Scoring
The sports currently offered at FanThrowDown are NBA, College Basketball, NFL and NHL. The scoring systems and roster formats are shown below as well as in the "Scoring Systems" tab of this FanThrowDown Review.
NBA

+

CBB

Scoring System

ROSTER: PG,PG,SG,SG,SF,SF,PF,PF,C

3-pt FG = 3pts
2-pt FG = 2pts
FT = 1pt
Rebound = 1pt
Assist = 1pt
Block = 2pts
Steal = 2pts
Turnover = -1pt
NHL

Scoring System:

Goals = 3pts
Assists = 2pts
Plus/Minus = 1pt
Penalty Minutes = 0.25pt
Powerplay Points = +0.5pt
Shots on Goal = 0.4pt

Goalies

Wins = 4pts
Goals Against = -1pt
Saves = 0.2pt
Shutouts = 2pts
NFL

and

CFB

Scoring System:

Offense

Rushing yards made = 0.1pts
Rushing touchdowns = 6pts
Passing yards = 0.04pts
Passing touchdowns = 4pts
Interceptions = -1pt (negative)
Receiving yards = 0.1pts
Receiving touchdowns = 6pts
Receptions = 0.5pts
Kick-return touchdowns = 6pts
Punt-return touchdowns = 6pts
Fumbles lost = -2pts (negative)
Own fumbles recovered touchdowns = 6pts
Two-point conversions scored = 2pts
Two-point conversion passes = 2pts
Field-goals from 0-19 yards = 3pts
Field-goals from 20-29 yards = 3pts
Field-goals from 30-39 yards = 3pts
Field-goals from 40-49 yards = 4pts
Field-goals from 50+ yards = 5pts
Extra-point conversions = 1pt

Defense

Sacks = 1pt
Opponent-fumbles recovered = 2pts
Return touchdowns = 6pts
Fumble return touchdowns = 6pts
Safeties = 2pts
Blocked kicks = 2pts
Interceptions = 2pts
0 points allowed = 10pts
1-6 points allowed = 7pts
7-13 points allowed = 4pts
14-20 points allowed = 1pt
28-34 points allowed = -1pt
35+ points allowed = -4pts

Cashier
FanThrowDown offers deposits through PayPal as well as most major credit cards. You can deposit a minimum of $10 and a maximum of $500. For withdrawals, you may withdraw to PayPal or request a check. PayPal withdrawals are processed in under 48 hours and checks will be mailed out within that 48 hour window as well. Withdrawals over $250 may require Social Security information for tax purposes.
In general, the cashier option is easy to use and pretty standard for daily fantasy.