Congrats to eipsallig for taking down this GIF contest! Everyone have a safe and fun weekend enjoying the return of MLB!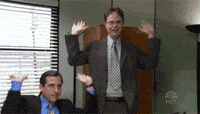 Hey Grinders!
With MLB All Star Break going on, I hope you all are thoroughly enjoying a break from the grind of DFS and spending some quality time with family, beginning NFL research, or, for those of you out there that just can't get enough, sweating WNBA DFS!
I can't speak for all, but I thought this year's Home Run Derby and All Star Game were excellent. The game was fun and competitive last night, and the Derby showcased some great young talent. Aaron Judge is obviously the current GOAT, but you've got to feel good about the state of the MLB when he's in company of great young players like Gary Sanchez, Justin Bour, Miguel Sano and so many others!
MLB kicks off its second half on Friday, so we've got two more days without DFS. To have some fun, we're running a GIF Contest here today at RotoGrinders, and the winner will get an RG t-shirt to rock for the second half of summer!
The rules are simple: post your GIF below, and the post with the most "up-votes" by this time tomorrow wins! The theme this week is "All Star," and you can interpret that however you want!
I'll get us started…
Ready, set, post! (Pro tip: captions are much appreciated!)