Let's face it, Wednesdays can be tough. The work week is only half over, last weekend is a distant memory, the upcoming weekend seems to be infinitely far in the future, and Chris Sale was awful last night versus his former team!
We're looking to spread the love and good vibes here at RotoGrinders, so we're offering a little GIF contest today! Post your current favorite GIF in this thread, and the one that receives the most "up-votes" by day's end wins a sweet pack of RotoGrinders playing cards!
I'll get us started with this gem!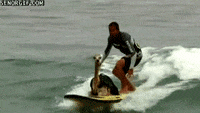 Now ready, set, post!