Let's face it, Wednesdays can be tough. The work week is only half over, last weekend is a distant memory, the upcoming weekend seems to be infinitely far in the future, and Scooter Gennett has transformed into Barry Bonds before our very eyes.
Seriously though, check out this list of players who have hit four home runs in one game… either Scooter is going to turn into quite the slugger, or he's a massive outlier!
We're looking to spread the love and good vibes here at RotoGrinders, so we're offering a little GIF contest today! Post your current favorite GIF in this thread, and the one that receives the most "up-votes" by day's end wins a sweet pack of RotoGrinders playing cards!
I'll get us started with this gem, in honor of Mr. Scooter Bonds-Ruth-Aaron and our furry, four-legged best friends!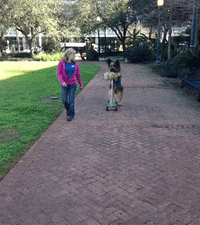 Now ready, set, post!