Let's face it, Wednesdays can be tough. The work week is only half over, last weekend is a distant memory, the upcoming weekend seems to be infinitely far in the future, and the Minnesota Vikings beat the Seattle Seahawks 20-7 last night.
Wait, something is wrong there.
It's June. There's no football.
Sorry, that was the Minnesota Twins beating the Seattle Mariners 20-7 last night. The Twins collected 28 hits, and even more absurdly, got 20 runners across home plate. Eddie Rosario hit three home runs, and was one big way from upending Scooter Gennett for most unlikely guy to ever hit four homers in a game.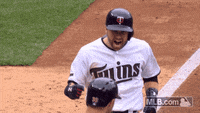 Definitely a crazy night of baseball in Minnesota, and as bullpens get beat up and the temparture soars to peak-summer hotness, expect more of it!
We're looking to spread the love and good vibes here at RotoGrinders, so we're offering a little GIF contest today! Post your current favorite GIF in this thread, and the one that receives the most "up-votes" by day's end wins a sweet pack of RotoGrinders playing cards!
I'll get us started with this creepy gem, in honor of, who else, Twins!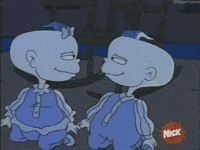 Now ready, set, post!