It's Wednesday, and you know what that means, it's time to spread some good vibes here on the RotoGrinders forums to help everyone power through the latter half of the week.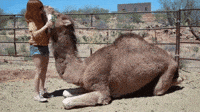 Recently we've been running a GIF contest on Wednesday's, but I wanted to change it up this week and run a trivia contest! But I won't be asking the questions, you will!
Here's how it works:
Post an MLB themed trivia question (without the answer) in this thread and Private Message me (JoeRapJr) with the answer. I'll be picking the best question and sending that user some RG swag, so please be creative and come up with a question that is both interesting and challenging!
Once I pick the winner, I'll post the answers to the questions!
Let's go!