@jjwd said...
I'm opposed to these asinine quarantine rules, which aren't based on science. If a player tests positive for corona, it should be up to them and the people around them to act accordingly. Don't visit a nursing home.
Maybe old baseball managers should stay home. But to think that Soto is putting his teammates' lives in danger… well, it's just preposterous.
By rule of law you are not allowed to say preposterous without a Stephen A Smith gif tagged to it.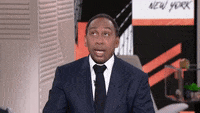 Anyway, to re-rail this … who do you guys think will be the highest owned outfielders today?