RG T-Shirt Giveaway #5: DSBC March Madness Bracket!
Alright we got another chance for you to win an RG T-shirt and I personally love this one. The DSBC Bracket for the final 12 players is out(shown below). Here are the rules for this:
1) Pick a winner for each game leading up to a champion, just like you would a March Madness bracket.
*BE SURE TO INDICATE IF YOU ARE PICKING THE 1ST OR 2ND ENTRY FOR PLAYERS WITH TWO ENTRIES or Jacknsoda(2)
2) The points for the bracket are as follows:
1st Round Pick Correct = 2 point
2nd Round Pick Correct = 4 points
3rd Round Pick Correct = 8 points
Champion Correct = 16 points
Third Place Correct = 8 points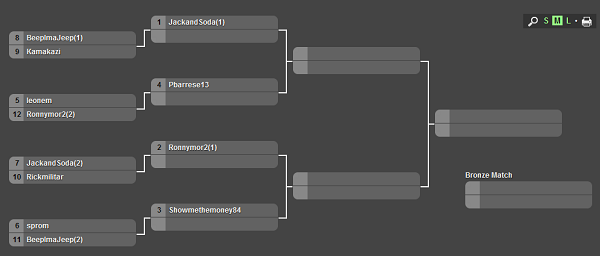 Note: Only one bracket per person. In the event of a tie, the tie-breaker will be first based on number of total correct picks then a winner will be drawn at random if there is still a draw.
THIS CLOSES MONDAY NIGHT AT 7 PM EST WHEN THE DSBC FINALS BEGIN
You must fill out the entire bracket to qualify, not just pick a champion
Since it's fairly challenging to fill out a bracket without one on paper, just copy and paste this and fill out your picks.
Round 1:
Game 1: BeepImaJeep(1) vs. Kamakazi:
Game 2: Leonem vs. Ronnymor2(2):
Game 3: JackandSoda(2) vs. Rickmilitar:
Game 4: Sprom vs. BeepImaJeep(2):
Round 2:
Game 5: Winner Game 1 vs. JackandSoda(1):
Game 6: Winner Game 2 vs. Pbarrese13:
Game 7: Winner Game 3 vs. Ronnymor2(1):
Game 8: Winner Game 4 vs. Showmethemoney84:
Semifinals:
Semifinal #1: Winner Game 5 vs. Winner Game 6:
Semifinal #2: Winner Game 7 vs. Winner Game 8:
Finals:
3rd Place:
Runner-Up:
Champion: