Good Thursday Morning and YAY GOLF
Remind me not vacation in Bermuda, look at this weather, going to be spicy on Friday.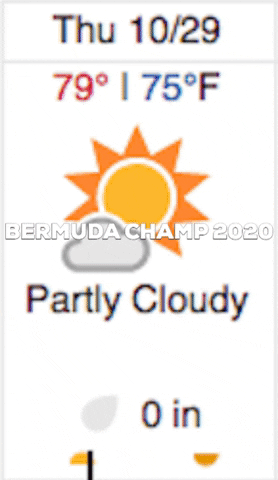 Looking at ownership numbers, looks pretty spread out with D McCarthy and W Bryan the only players in my pool over 20%.
Up top I am super heavy overweight on D McCarthy (Chalk?), with Tringale & Doc as well.
In the middle played a ton of cut maker Adam Schenk, sprinkled with a good dose of chalky W Bryan (more chalk!)
down low I really liked Lahiri & McCumber
Experimented in the .50 with 40 lineups to see how the extra combo's work, using the same player pool as my core 20. I seem to always stare at my hand built excel sheet and say to myself "Mr Breeze you had the right golfers, just not the right combo"
Every week I agonize over which of my core 20 to enter in the HM, hopefully chose well this week, I went with what looked more like a cash line up this time.
Raining here this morning , so no Men's league golf, so hoping for good coverage to watch!
Oh, I did enter SD today trying to win more Masters Milly tickets.
G
D. McCarthy
E. Grillo
Adam Schenk
Luke List
Sepp Straka
Brian Gay
OK, Good Luck today Y'all, we will need it.