Hey Grinders,
We are excited to announce that our forums now support the use of GIPHY!!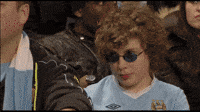 To use Giphy in your post, all you have to do is click the +GIF button (see picture below).
GIFs are a great and fun way to express your opinion and we think this will bring some additional fun to the forums! With that being said, what better way to announce GIPHY than an entire thread dedicated to our favorite GIFS.
Due to a tie, we have two winners for the RG SWAG. Congrats to MoneyFingers and flip4flop! Check your DM's.
Feel free to keep the GIFs rolling in and sharing your favorite ones!