Extra Cash-Game Thoughts
I'd love to tell you it's "easy." I'd love to say, "Really, don't overthink things in cash games. Make the smart picks, and you'll do well." I'd love to make it sound as though it's really all as simple as that. But the truth is —
Oh, wait. What? You're telling me it really is as easy as that?
How about that.
You see, one of the big mistakes people tend to make in cash games is that they overthink things way too much.
To read the rest of this lesson, you must purchase the course!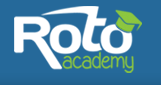 RotoAcademy offers one-of-a-kind, data-driven content to help you win.