Vivid Picks Promo Code
Bonus Code
Up To $100 Bonus With First Deposit
Vivid Picks is available in 24 states. T&Cs Apply, 18+.
Verified 12/05/2023
Expires: 12/31/2023
Vivid Picks Promo Code Details
| | |
| --- | --- |
| Vivid Picks Promo Code | GRINDERS |
| Bonus Offer | Up to $100 Bonus on First Deposit |
| Offer Dates | December 2023 |
| Additional Details | New players only. Must be 18+ and in an eligible state |
By signing up with the Vivid Picks promo code GRINDERS you can get up to a $100 deposit match with a very low 1x play-through requirement. What a deal! Click here to sign up and snag our exclusive Vivid Picks promotion. Find the complete details, promo code, and terms in the table below.
Key takeaways in comparison to promo code offers from other daily fantasy sports apps:
The offer is consistent with most industry-wide offers, like the Underdog Fantasy promo code and PrizePicks promo code
The rollover requirements and time it takes to get for users to earn this deposit bonus is much quicker than on DraftKings and FanDuel. You only have to wager the bonus amount one time before being able to withdraw it. After depositing $200 or more and wagering $200, the entire bonus match is available for immediate withdrawal.
What Is Vivid Picks (formerly Betcha)?
Vivid Seats is a publicly-traded secondary ticket marketplace. In fact, Vivid Seats might be the second-most well-known ticketing company behind StubHub. You can get tickets to almost any event on Vivid Seats, which has helped the company's nationwide brand recognition. Vivid Seats also has cash to spend and a huge database of information on millions of customers, many of whom are sports fans. In 2021, Vivid Seats decided to expand into the DFS space, and found a willing partner in Betcha.
Similar to BetFanatics, the goal of Vivid Seats and its new DFS app, Vivid Picks, could eventually be to open up a sportsbook in large states such as California and Ohio. For now, Vivid Picks, which used to be known as Betcha before the Summer 2022 re-branding, hopes to change the way fans predict sports. It's an ambitious endeavor, and they aren't alone in thinking that sports fans want to sign up for expanded DFS offerings.
Backed by Vivid Seats and its exceptional database and app management technology, Vivid Picks is off to a great start in terms of technology, bonus offers, sign-up bonus, a user-friendly app that is widely available, and backing from major investors. Much like the other apps in the DFS space, Vivid Picks allows users to pick player props and profit handsomely if they guess correctly. They have props for all of the major sports — NFL props, NBA, NHL, MLB, and Golf — plus more niche offerings that include eSports and NASCAR. We expect more sports to follow as Vivid Picks grows in this exciting industry of sports prediction.
Vivid Picks Social
Sports bettors and DFS players tend to be more plugged in and younger than average, so it makes sense that Vivid Picks is making a play for that audience. Vivid Picks separates itself from the competition by partnering fantasy sports with an engaging app-based user experience that includes an activity feed, the ability to follow friends, experts, and other Vivid Picks users, along with unique features like a Weekly Wall of Fame and ownership challenges that are sure to keep the operator's loyal customers engaged throughout their favorite sports season and beyond.
Vivid Picks has already integrated its Vivid Seats partnership into its app by positioning itself as a one-stop shop for sports events. Buy tickets to the game you are picking using the same app. "Making picks and buying tix" is the marketing slogan, and it is certainly unique. That said, it remains to be seen whether sports fans who are used to picking games from their couch really want to go see games in person often enough to make the partnership profitable.
The DFS space is certainly large enough to accommodate another operator, particularly one that is so earnestly trying to be hip. If Vivid Picks can leverage its social media expertise to trend and catch on it is possible that they could carve out a profitable niche in the DFS industry.
States Where You Can Use Vivid Picks Promo Code
Vivid Picks is not available in every state. Users can place entries and play the DFS pick-em games if they live in one of the following states:
Alaska
Arkansas
California
DC
Kentucky
Minnesota
Nebraska
New Mexico
North Carolina
North Dakota
Oklahoma
Rhode Island
South Carolina
South Dakota
Texas
Utah
Vermont
Wisconsin
Wyoming
Vivid Picks App Review
As far as the gaming experience goes, the Vivid Picks app, which is available on Apple and Android, provides one of the best gaming experiences you'll find. Vivid Picks may not be a household name, but the product itself is something you'd expect from seasoned veterans and industry giants.
Of course, this should come as no surprise if you've been keeping up with Vivid Picks Sports news. On December 13, 2021, Vivid Seats announced the acquisition of Betcha Sports for $25 million upfront, with additional payments that could amount to as much as $40 million. As part of the purchase, Vivid renamed the app Vivid Picks and re-launched the same great app with the new name on August 8, 2022.
Vivid Picks has come a long way since launching as Betcha in 2018, and now that the app is owned by Vivid Seats, they're ready to become a major player in the sports gaming industry, in the way that we've seen other startups like PrizePicks and Underdog Fantasy recently burst onto the scene.
Vivid Picks Promo Code & App: Pros & Cons
Vivid Picks is a great app, but just like any DFS platform, some aspects of it are better than others. Here are a few things we like and a few we don't like.
What we like:
$100 deposit bonus naturally
Social media integration
Being able to buy tickets and make picks on the same app is kinda cool
Wide variety of available sports
Growing, well-funded company
Designed for those who are new to DFS
Variety of deposit and withdrawal options
App is intuitive and easy to navigate
What we don't like:
Not a traditional DFS platform
Not available in all states
Not as appealing for experienced DFS players
Not as appealing for those who want to make single-game wagers rather than parlays
Playing against the house rather than against other players
Difficult to correctly pick multiple correlated outcomes
Limited player data available in the app
How to Sign Up For Vivid Picks Promo Code Offer
Signing up is quick and easy, making it as convenient as ever to claim your $200 deposit match bonus offer with our exclusive Vivid Picks bonus code. Vivid Picks can only be played on the app; the platform is not on desktop, so you'll first want to download the app. The app is available for both iOS and Android users, and downloading Vivid Picks will take only a matter of seconds. Just search for Vivid Picks in your phone's app store.
The next steps are just as easy. Once downloaded, you can continue the sign-up process with your Vivid Seats account, if you have one, or with Facebook or Apple. The other option is to sign up with an Email address.
Submit your email, and then fill out the subsequent information like your name, date of birth, username, and the Vivid Seats bonus code.
Pick a username and enter the Vivid Picks bonus code GRINDERS to claim your bonus offer.
The final step before depositing and claiming your Vivid Picks bonus offer is to verify your identity. ID verification only takes a few seconds once you fill your the required information, including your address.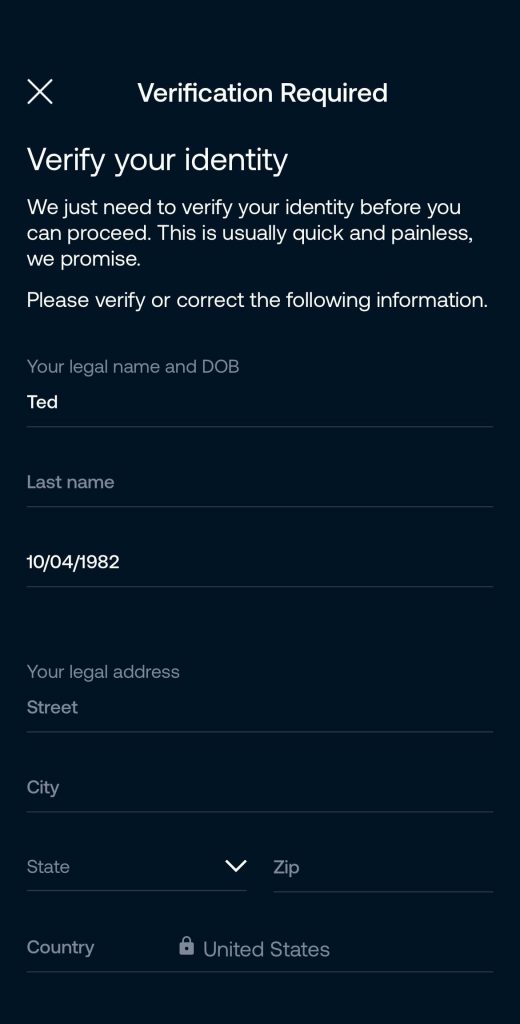 And boom! There, you've done it. Now you're ready to deposit money and earn up to a $100 bonus with your first deposit (subject to a very low 1x play-through requirement).
How to Claim the Vivid Picks Bonus Offer
Download the Vivid Picks app in the Apple Store or Google Play
Sign up with Vivid Seats, Apple, Facebook, or use your email
Enter your first and last name
Pick a username that hasn't already been used
Use the Vivid Picks bonus code 'GRINDERS'
Verify your identity
Make your first deposit and get up to a $100 bonus match with a low 1x play-through requirement
How Vivid Picks App Compares to Other DFS Sites
As discussed, Vivid Picks is staking out the social media corner of the DFS world. DraftKings and FanDuel have DFS for serious players, but Vivid Picks thinks that people want a more fun and light-hearted DFS experience. It could be a winning strategy because many people play fantasy football or baseball with their friends. DFS is a natural extension of that, and Vivid Picks has all the community and social media-related parts of DFS lined up and ready to go.
That said, the app also offers a solid DFS experience along with games that are easier to play than those offered by the competition. For example, an over/under DFS game is very simple to play. Either a player will score over or under a set number of points/catches/rebounds etc. No need to scout out players to see who might score a bunch of fantasy points.
Vivid Picks Customer Reviews
In addition to our own Vivid Picks review, we have collected feedback that is available from both the Apple App Store and Google Play to provide a more robust picture of how users view the Vivid Picks app relative to other DFS apps. Here is what users have to say about Vivid Picks:
Vivid Picks Summary of App Store Reviews
3.3/5 Stars – 385 Reviews (December 2023)
| | |
| --- | --- |
| iOS User Positives | iOS User Negatives |
| Generous & engaging Vivid Picks promotions: Vivid Picks launched with a $200 bonus but has since lower their promo code offer to $100. The current offer remains competitive compared to other sign-up offers in the industry, and Vivid Picks has frequent "boosts" and "freebies" pertaining to player props. | Poor customer service: A common complaint involved Vivid Picks customer servies, or lack thereof. When issues have come about, resolutions and responses have not always been timely. |
| Fun & innovative user experience: Users cited that the app was innovative and that the gaming experience is top notch. Another user said, "This app seemingly thought of everything you would want in a game day experience at a game or a bar and put it in a fun, easy-to-use platform. Especially like the feature that enables you and your buddies to earn more by making predictions on the same game. " | Suboptimal payouts/odds: Some users said the payouts and odds are not competitive with traditional parlay payouts. However, we checked, and Vivid Picks payouts are on par with other DFS Pick'em sites. |
| Safe deposits, reliable withdrawal methods: Several testimonies said that Vivid Picks has imrpoved their withdrawal methods, adding direct deposit as an option. Users have vouched that depositing and withdrawing funds is safe and simple. | Limited options: There were a few complaints that there were not as many prop markets available, especially for sports like PGA, as there are on Pick'em sites like PrizePicks. |
Use Your Vivid Picks Promo Codes on These Sports
Users have a wide array of sports to choose from when playing on Vivid Picks. The app offers everything from NFL props and NBA props to eSports props! Here's the full list.
NFL
NBA
MLB
NHL
PGA Tour
NASCAR
NCAAF
NCAAB
UFC
WNBA
Tennis
CS:GO
LoL
Talk about options! DFS players often can find bigger edges when it comes to more niche sports, as the market is often less efficient when it comes to those sports. Lines are much more efficient for the bigger, more popular sports like NFL, NBA, and MLB.
More on Vivid Picks
One unique aspect of Vivid Picks is the integration of Vivid Seats. Sure enough, right there on the bottom of the screen is a ticket button that takes you to a Vivid Seats page customized for the Vivid Picks app. The page lists all the upcoming sporting events, either near you or nationwide.
Vivid Picks Frequently Asked Questions
What is the best Vivid Picks promo code?
The best Vivid Picks promo code offer is RotoGrinders' exclusive $100 deposit bonus, available to new users when they sign up using our exclusive GRINDERS promo code.
How do you claim the Vivid Picks bonus?
Use the Vivid Picks promo code GRINDERS when you sign up to claim up to a $100 bonus!
Is the Vivid Picks app legit?
Yes, the Vivid Picks app is entirely safe and legal in most states. Users make picks and always get paid when they win.
How do I cash out on Vivid Picks?
Click on Settings under your Profile and go to the Withdrawal option to select the method with which you want to use to withdraw your funds.
How do I contact Vivid Picks customer support?
You can email customer support at support@vividpicks.com and follow Vivid Picks on Twitter @vividpicks.
What sports are available on the Vivid Picks app?
NFL, NBA, MLB, NHL, PGA, WNBA, MMA, NASCAR, NCAAF, NCAAB, and Esports are all available on the Vivid Picks app.
FanDuel Promo Code | Boom Fantasy Bonus Code | PrizePicks Review | Sleeper Promo Code | Underdog Fantasy Bonus Code | Drafters Promo Code | ThriveFantasy Promo Code | StatHero Promo Code | SuperDraft Promo Code | bet365 DFS Review