Where to Go From There
I know, I know — I really just left you hanging at the end of that last lesson with a whole bunch of leftover salary just sitting there on your roster. That's sort of the way this course has gone, though, isn't it? We haven't really had "self-contained lessons" so much as we've had one long, continuous lesson with forced breaks thrown in there to give you a chance to breathe.
Why stop now, right? Let's pick up where that last lesson ended and pretend it never stopped in the first place…
To read the rest of this lesson, you must purchase the course!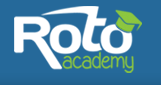 RotoAcademy offers one-of-a-kind, data-driven content to help you win.