2014 FFFC: Fanduel Awarding $2 Million to 1st Place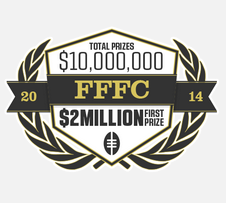 FanDuel has unveiled their plans for the upcoming NFL season, and it is an EXTREMELY exciting announcement! Not only will they be running a multi-million dollar NFL final which awards seven-figures to 1st place, but two people will walk away millionaires after the FFFC! The 1st place prize this year will hit an unprecedented $2,000,000, while 2nd place will walk away with a cool $1,000,000 runner up prize. A total of $7,000,000 will be paid out to finalists, while the event total will hit a whopping $10,000,000! If this doesn't have you excited for football season, you simply don't have a pulse.
If you haven't signed up yet, be sure to use our Fanduel Promo Code "GRINDERS" to get a 100% deposit bonus up to $200 on top of a free year of our premium product, Fanduel Incentives ($300 value).
The 2014 FFFC will consist of 100 finalists who will get to experience a luxurious trip to Las Vegas, where they will be put up at the Cosmopolitan for an incredible three-day weekend. The finals will take place on December 14th, so keep your calenders open! The three night stay will consist of multiple parties, a surprise Saturday and a chance at fantasy football fame, so keep your eye out for the first of the qualifiers in the FanDuel game lobby!
The FFFC isn't the only game in town for FanDuel, as they've also announced the WFFC, which features four massive tournaments and over $10,000,000 in prizes! It's going to be an absolutely incredible NFL season! Let's take a look at the WFFC events, which feature a bevy of Survivor tournaments in addition to the grand-finale (the FFFC).
The FFFC
We've already touched on this one, but my goodness is it amazing! This is the first tournament to make two people instant millionaires, and will truly be a life-changing event for those fortunate enough to bring their A-game on December 14th. With over $7,000,000 awarded to finalists, it's going to be the premier event of this NFL season. The top-ten FFFC finishers will all walk away with at least six-figures in prizes!
$300,000 Survivor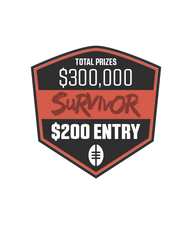 The big brother of all Survivors past and present starts Week 4 of the NFL season! See how long you last – you only have to be in the top 75% to advance to Round 2 and so on. The final five Survivors will be brought to Las Vegas to play for the $40,000 first place prize on December 14th! The Survivor tournaments were a huge hit during the MLB season and we'd expect them to be even more popular for football.. It's $200 to enter, and 1st prize will take home $40,000 in cash!
$200,000 Survivor
9,695 entries will kick off Round 1 for this bad boy and the rounds won't stop until it's down to the final five. A shot at the $20,000 awaits each finalist as well as a luxurious Vegas trip package to our live finals venue at the Cosmopolitan of Las Vegas. It's just $25 to enter, so this one appeals to both the high-stakes and lower-stakes Grinders. For $25, it's harder to find a more cost-efficient way to make it to Vegas!
$100,000 Survivor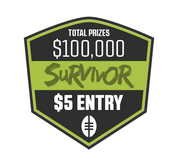 Small stakes players eat your heart out! You don't need a big bankroll to win one of the legendary trip packages to Vegas and this particular contest proves it! A multi-round Survivor format ensures that you don't have to be the best to make it to the live finals – just be better than average! That is, until you make it Vegas, where it will take your best performance to claim that $10,000 prize for first. It's just $5 to enter, which is just about impossible to beat!