Introduction to Daily Fantasy Golf
Welcome to my guide to daily fantasy golf. As with any sport, there are going to be some up and down weeks, but if you use the tips that I've laid out through the lessons, you should be able to become profitable. This guide will teach you everything that you need to know about the fastest-growing sport in daily fantasy. This guide will focus on DraftKings-specific strategy, but the same concepts can be applied to other sites that offer fantasy golf as well.
Golf is quickly becoming a mainstream fantasy sport thanks to the epic sweat that it provides week in and week out. Thanks to daily fantasy, golf goes from being a boring sport to one of the most polarizing ones to watch on TV. It is unlike the other major sports in that your buy-in lasts for a period of four days. Golf is also growing in popularity because the learning curve for new players isn't nearly as steep as it is for other sports.
If you are thinking about venturing into the wonderful world of daily fantasy golf, then you will soon become great friends with what we call Shot Tracker. I must warn you, like a Pringle, once you pop, you just can't stop. Shot Tracker allows you to follow every shot of every single player on tour. You basically get a play-by-play for each of your golfers each week, providing one of the best sweats in all of fantasy sports.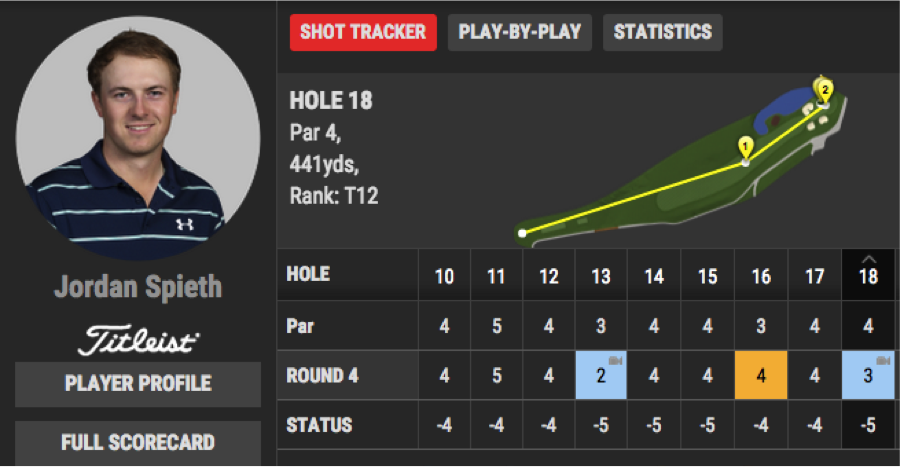 Before we get into strategy, let's quickly cover how the sport works. On DraftKings, you are given $50,000 to spend on six golfers each week, with all six golfers counting toward your final score. The $50,000 salary cap gives us an average of $8,333 to spend on each golfer. On a typical week, there are around 20 golfers priced above this point with up to 140 golfers priced below it. This is important to point out as it allows us to afford the high-end options each and every week.
In all daily fantasy sports, the strategy that we employ should vary based on the league type in which we are playing. We want to increase our overall floor in cash games and increase our ceiling in tournaments. The way to increase your floor and ceiling in fantasy golf is to create a team that has the best chance to have all six golfers make the cut. The cut is so important in golf, that we have a full course dedicated to it.
Next up is the scoring structure. Like any sport, it's imperative to know the scoring ins-and-outs on the site on which you are playing in order to maximize the potential from your lineups. DraftKings awards points for scoring on individual holes, for a golfer's finishing position, as well as bonuses. Here is a breakdown of the scoring on DraftKings.
Per-Hole Scoring
Double Eagle (DBL EAG): +20 PTs
Eagle (EAG): +8 PTs
Birdie (BIR): +3 PTs
Par (PAR): +0.5 PTs
Bogey (BOG): -0.5 PTs
Double Bogey (DBL BOG): -1 PT
Worse than Double Bogey (WORSE DBL BOG): -1 PT
Tournament Finish Scoring
1st: 30 PTs
2nd: 20 PTs
3rd: 18 PTs
4th: 16 PTs
5th: 14 PTs
6th: 12 PTs
7th: 10 PTs
8th: 9 PTs
9th: 8 PTs
10th: 7 PTs
11th–15th: 6 PTs
16th–20th: 5 PTs
21st–25th: 4 PTs
26th–30th: 3 PTs
31st–40th: 2 PTs
41st-50th: 1 PTs
Streaks and Bonuses
Streak of 3 Birdies of Better (MAX 1 Per Round) (3+ BIR STRK): +3 PTs
Bogey Free Round (BOG FREE RD): +3 PTs
All 4 Rounds Under 70 Strokes (ALL 4 RDS UND 70): +5 PTs
Hole in One (HOLE IN ONE): +10 PTs
The first thing that stands out is that birdies and bogeys aren't valued the same. In actual golf, a birdie and a bogey would get you back to even par. However, in fantasy golf, that's not the case. Birdies are worth a lot more than bogeys, which places an emphasis on golfers that are able to capitalize on their scoring opportunities. To prove my point, let's look at an example of two players that both shot a round of even-par on the day:
Rory McIlroy had a frustrating day on the course. He got off to a bad start with a triple bogey and added three more bogeys on his card. He was able to fight back on the back nine though, with an eagle and four birdies to end the day at even par.
McIlroy's Score
WORSE THAN DOUBLE (1*(-1)) + BOGEYS (3*(-0.5)) + PARS (9*(0.5)) + BIRDIES (4*(3)) + EAGLE (1*(8)) = Total Score of 22 Fantasy Points
Brendon Todd played a solid round of golf, but he was unable to capitalize on his scoring opportunities. He didn't make many mistakes, but he didn't make many putts either. He finished the day with one birdie and one bogey to finish with an identical score of even par.
Todd's Score
BOGEY (1*(-0.5)) + PARS (16*(0.5)) + BIRDIE (1*(3)) = 10.5 Fantasy Points
Even though both Rory McIlroy and Brendon Todd shot rounds of even par on the day, there is a vast difference between their fantasy point totals. DraftKings rewards players that make birdies and eagles rather than players that are steady par-makers. This is something that is overlooked by a lot of players each and every week in daily fantasy golf.
Hopefully you will find this course helpful, whether you are new to daily fantasy golf or whether you are looking to take your game to the next level. Without further adieu, let's get to the lessons!