NBA Recent Stats and Hot Streaks
One of the lesser known factors to look at when playing daily fantasy NBA is recent statistical trends I think a lot of even seasoned players tend to dismiss this under various theories of "small sample size."
However, certainly there is nothing to lose by at least thinking about it and discussing it some. As a matter of fact, I'll admit that once I started doing a little digging for this piece, I found out that I should even start using recent statistics a little bit more in my own research. It's funny how a concept tends to take a back seat until you force yourself to think about it. That's what I will attempt to do in this lesson – force you to think about recent statistics and streaky players.
THE

VALUE

OF

RECENT

STATISTICS
Many of you are probably wondering why this topic is worthy enough to be its own lesson. Let's start by simply discussing the value that can be found in recent statistics.
The most obvious case is when a player is injured. For example, let's say a team is thin at the point guard position, and their point guard gets hurt. A backup who may or may not be talented would then be thrust (out of necessity) into major minutes. Remember, in the NBA, minutes equals opportunity, and opportunity equals production. If a player is hot recently, it might be because they have been unexpectedly put into a higher-minutes-per-game situation. Checking out recent statistics will help you identify these things.
A less obvious example would just be a player going on a hot streak. This is the part of the topic that is a little more open for debate. Everyone has their own opinions as to the value of a hot streak. Some will actually dismiss a hot streak as a player being "due for a bad game" while others will "ride the hot streak" until it stops. It's a personal preference, and all I can say is to try and be as objective about it as you possibly can. That will help you out when assessing statistical data over the long haul.
WHERE

CAN

I

FIND

RECENT

STATISTICS

?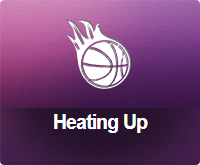 Although this may seem daunting, there are several resources you can use to track recent statistics. RotoGrinders has a free page that tracks top players by the day, and also aggregates stats over the past week. You can find that information here.
Also, some daily fantasy sites (such as DraftStreet) actually have a drop down menu on the player select screen that you can use to sort statistics based on the whole year or the last 15 days. That works very well for those who care to use it. Lastly, various sites like ESPN and Yahoo track a plethora of statistics for your viewing pleasure. There is truly never a shortage of information at your fingertips.
In the end, this decision is yours. You can follow recent statistics and ride hot streaks, you can totally ignore them, or you can try to find a balance that works for you. That's where I would try to fit myself in.
Happy Grinding! If you follow these principles, you'll be on the pathway to success with managing your bankroll — and having fun — while playing daily fantasy sports. Good luck!