NBA Site Scoring Importance
As with any daily fantasy sport, knowing how fantasy points are accumulated is critical to your success. In daily fantasy basketball, you have to learn how each statistic is scored in order to understand who the best plays are night in and night out. Once you have the scoring down, we will show you an easy system that you can use to determine a player's value for each individual site.
Study Your Site's Scoring System
If you are new to daily fantasy basketball or even if you just need a refresher, the first step that you should take is to learn your site's scoring system. The major daily fantasy sites all have different scoring systems and understanding which statistics are more valuable on each site will help you when creating your lineups. For example, some sites negate for missed shots, some sites give you a bonus for three-pointers, and some sites give you a bonus for either a double-double or a triple-double. To find your site's scoring, all you have to do is click on the Rules section of the site and each sports scoring system will be listed.
When making a team, you have to take all of these scoring differences into account based on which site you are playing on. For example, DraftStreet negates for missed shots so you may want to avoid high-volume shooters because they can hurt you if they have a bad shooting performance. On DraftKings, they reward bonus points for double-doubles and triple-doubles so targeting players who can consistently reach those numbers will allow you to gain those additional fantasy points.
While we won't break down every site's scoring, let's take a quick look at FanDuel's NBA scoring since they are the biggest daily fantasy site in the industry: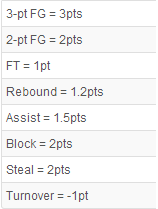 As you can see, the scoring on FanDuel is pretty straightforward. Most sites have a system very close to this with a few minor changes/additions. In order to be successful on your site, make sure to know the ins and outs of the scoring system and choose your players based on who it benefits the most.
Choosing Players Based on Scoring
Generally speaking, NBA scoring is as follows: 1 FP for every point scored, 1.2 for every rebound, 1.5 for every assist, 2 for every block and steal, and -1 for every turnover. Without any further research you should immediately notice that blocks and steals are the most valuable statistic that a player can get in daily fantasy basketball, followed by assists. NBA scoring really benefits the players who can fill up the stat sheet and really takes the value away from players who are strictly offensive players.
Always keep these stats in mind when putting your lineups together.
If you are comparing two players and one is a player who gets the majority of his points from only scoring, while the other player gets most of his points through a combination of stats, you should always lean toward the second player because even if he has a bad night offensively, he could still end up having a productive fantasy night.
Developing a Target Score for Value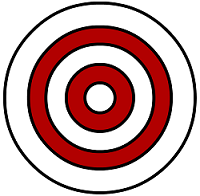 In every daily fantasy sport, a good tip is to set a target score that you want your team to attain each night and then come up with a metric for value. Each site's scoring and salary system differ, so your goal that you want to attain will differ on each site, but it's a great tool to assess the value of any specific one player.
To do this, come up with a score that is generally good enough to win the type of leagues that you typically play in. So if you like to play on FanDuel and play mostly 50/50 leagues, then come up with a score that is good enough to win on most sites. For our purposes, let's set the goal to 300 fantasy points. With a salary cap of $60,000 to spend on FanDuel, that means that you need to get 5 points for every $1,000 of salary spent ((300/60,000) *1000).
Using that metric of 5 points per $1,000 of salary, you can start analyzing players on an individual level to see if you think they will reach value. For example, if a player is $5,000 on FanDuel, that would mean that you need him to score 25 points in order for him to cover his value. This is a very simple process that you can use to gauge individual player's value.
Generally speaking, you should use this system on a sliding scale. If you are going to take cheap value plays, you expect them to cover more of their share of value and if you are taking expensive stud players, you can't really expect them to score 5x their salary. Use the 5x rule as a guideline, but expect more around 6x for value plays and 4x for star players.
NBA

Scoring Wrap-Up
In order to be successful in daily fantasy basketball, you have to learn your salary's NBA scoring and use it to your advantage. If the site you play on gives you a bonus for three-pointers, for example, that will be something to consider when putting your lineup together. If the site you play on negates fantasy points for missed shots, you might want to avoid high-volume shooters.
In addition to learning the scoring system, set a target score for yourself and use that to create a value system that you can use on each site. It will help you determine if you think a certain player will be a good play or not based on their salary and expected fantasy output.