Pace and Offensive Efficiency
Most players new to NBA will just go straight to players they know without understanding too much about the nuances of the NBA daily game. This is a major mistake. By this point in the lessons, you should have enough knowledge of that to understand it. However, a commonly ignored metric is offensive pace and offensive efficiency.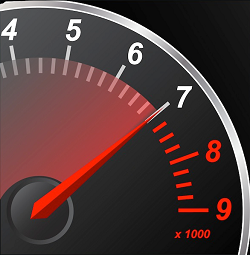 A little background is probably important. "Pace" (also referred to as "tempo") simply refers to how many possessions each team gets in a game involving that team. "Offensive efficiency" refers to the number of points a team scores in 100 possessions.
A

SIMPLE

METHOD

OF

EVALUATING

PACE

/OFFENSIVE

EFFICIENCY
The easiest method to get a high-level picture of pace and offensive efficiency is by looking at Vegas odds. If you see an NBA game with a total over, say 215 points, you know both teams must play at a fast pace and/or a high offensive efficiency. If you see an NBA game with a total under 190, you know both teams must play slower and/or at a low offensive efficiency. The games in between these totals are a little tricky as a combination of factors may be at work.
In the long run, using Vegas odds provide a good baseline for seeing how slow or fast teams play. However, if you really want to use pace and offensive efficiency as a metric when figuring your daily fantasy lineups, it's best to try another method.
A

MORE

DETAILED

WAY

TO

EVALUATE

PACE

/OFFENSIVE

EFFICIENCY
Luckily for us, a lot of sites provide statistics on pace and offensive efficiency. One of the most popular ones is Hollinger's page at ESPN.
Using these statistics, it's actually easy to come up with a baseline measure for the number of points a team will score in a given night. First, average a team's offensive efficiency with their opponent's defensive efficiency. Then, average the pace of the two teams.
This will yield you two figures. Multiply those together, divide by 100, and voila! You have a good estimate of how many points a team should score based on their season pace and efficiency averages. Obviously, injuries and the like are not factored into the season totals, so you must exercise some caution. Don't rely solely on this as your research; it's merely an additional tool to help you out. I like to use it in tiebreaker situations.
Here's a sample calculation:
Team A Pace = 96 possessions per game
Team B Pace = 92 possessions per game
Average = 94 possessions for each team in a head to head game
Team A Offensive Efficiency = 103.5
Team B Defensive Efficiency = 100.5
Average = 102.0 Offensive Efficiency for Team A in this game
Calculation of Team A projected points = 94 possessions x 102.0 efficiency / 100 = 95.88 points
It's that simple! This is a handy tool that can always be at your fingertips.
Enjoy, and good luck!