Vegas Lines in NBA
One of the most underrated tools in daily fantasy sports is using the Vegas Lines. The daily lines are a free source of research and use a lot of the same research that we use in daily fantasy sports. The people that set the lines spend hours researching team statistics and splits and use that research to set the line. Instead of spending hours doing your own research, you can save a ton of time by taking a quick look at the Vegas lines and trust that they know what they are doing. While the Vegas lines won't be able to tell you anything about individual player matchups, they are a great source of what to expect from each team.
Vegas lines can tip you off on potential games to target as well as potential games to avoid. The oddsmakers are basically doing the work for us, so all we have to do is be able to decipher the information and use it to our advantage in daily fantasy sports. This lesson will cover a few things to look for when going over the lines each day.
Blowout Factor
When analyzing the Vegas lines, you want to look at two things: who is favored (and by how much), as well as the total for the game. The reason that you should look at the line for each game is to look for games that will potentially be blowouts. There is nothing worse than having players on a team that is involved in a blowout. Not only do the teams lay off the gas pedal, but most of the starters end up sitting out the entire fourth quarter.
My general rule is to look for games that have lines in the double-digits. Anything over an eight-point line is a potential blowout that you want to be careful with and anything greater than 10 points is a red flag that you may want to avoid. In the NBA, you need production out of every single one of your players and you can't afford to take the risk that your players sit the fourth quarter.
While there are always exceptions to every rule, I think it's good to set a guideline to follow each night. My guideline is to avoid all of the top dollar players in these potential blowout games. There is still some value in taking cheaper players that have good upside, especially players that are filling in for injured players. At the end of the day, minutes will override everything else in the NBA, but staying away from expensive players in potential blowouts will save you some headaches.
Targeting Games with High Totals
The total is also known as the over/under. In daily fantasy sports, you want to target the games that are expected to be high-scoring because high-scoring games mean more fantasy points. In the NBA, a quicker tempo means more possessions, which in turn means more points, rebounds, assists, etc. Looking at each game's total should be a part of your daily routine. It is extremely easy and will give you an idea of which games are expected to be high-scoring that night.
Where to Find Vegas Lines
Each day's lines are very easy to find. We have a tool on RotoGrinders that posts each day's lines or you can just do a quick Google search and there are plenty of websites with the lines posted. One of the advantages of using the RotoGrinders tool is that it shows the expected score for each team, instead of just showing the line and the total (pictured below).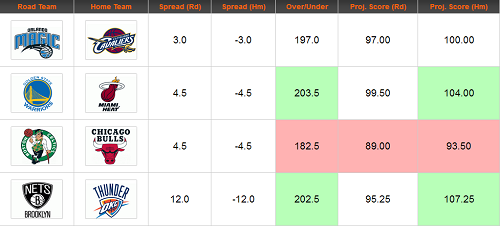 The Vegas Lines tool on RotoGrinders also highlights which projected scores are favorable and which scores are not favorable. The scores highlighted in green are the teams that are expected to score a lot of points that night. Keep in mind that looking at the lines each day will take less than 10 minutes and it will provide you with a lot of valuable information.