Cardboard Calculus - A Week In Review
Card prices and population counts are not the only things in the hobby growing exponentially by the day. The amount of data being generated is astounding and much of it remains untapped. This is why I have created the Instagram account Cardboard.Calculus. Almost daily I uncover a new piece of information from the vast amount of data in the hobby and this is my platform to share it with the sports card world. In this series I will take a look back at each week's most interesting posts and provide further explanation for what I think it means for the hobby and our decision making when buying and selling cards.
Our pricing research is done using Sports Card Investor's Market Movers data. You can sign up for your own Market Movers Subscription to access the data on your own and by using the promo code GRINDERS you will get 20% off your first payment on any subscription. You will want to sign up for Market Movers specifically in order to access the great tools and data, and if you sign up for the annual Market Movers subscription, you will save you 20% on the entire year instead of just the first month.
Cardboard Calculus – A Week In Review
Company Disclaimer: We may be compensated by the company links provided on this page
In this article I will take a look back at some of the most interesting charts I have created so far as it relates to the Select brand. If you talk with me for five minutes about the hobby you will already know how much I love Select and how I think it is the best long term mainstream card to own for any player. As you can see even within a set you can find opportunities if you really dig into the data. Let's get to it!
Select Scope Is The Most Underrated Parallel In Sports Cards
Despite having a fair amount of Silver in my stock portfolio I can't say I am much of a fan when it comes to the hobby. As I talked about in my last article, Silver has become a glorified base card with how common it is in modern sets. There is some early evidence that Panini might have corrected this with the 2019 draft class so it is worth monitoring with future releases. That being said I believe I have found one of the most underrated parallels in all of sports cards. The Scope parallel was introduced in 2017 within the Select family and man did I fall in love at first site. Pictures do not do justice for how beautiful this card is in hand. As you can also see from the chart it is not easy to find. Base Ratio is a metric I created to gauge how rare a parallel is relative to the base version of that card. In 2018 you would pull on average 23 Base cards before you hit a Scope Luka. To put that into perspective the Select Silver has been hovering around 5.0 the last few years.
Despite being considerably more rare than the Silver the Scope trades at or below Silver prices in most cases. As you can see from the chart above, until recently Luka's Scope has traded slightly lower consistently until the most recent sale. I will be interested to see if this trend continues and what it might mean for other players 2017 and later moving forward. Some people will say that Silver will always be more desired because of its history in the hobby and the hype that it receives from collectors and investors alike. I challenge this theory and think that as new people in the hobby become more comfortable they will start to stray away from the longly held unwritten rules of the hobby. Plus they are just so DAMN PRETTY!
How are Premier Level Cards So Cheap?
If you are not familiar with Select its base set is broken out in three different tiers that carry their own level of scarcity. Concourse is the most common level, Courtside is the most rare, and Premier level is somewhere in the middle. Luka was included in all three levels his rookie year so we can compare those populations based on PSA data. Luka's Concourse accounts for almost 70% of the 2018 Select Base cards graded by PSA as of November 2020. Courtside tends to trade at much higher prices than its counterparts and rightfully so as it accounts for less than 10% of all graded base cards. What is confusing to me is why Premier also does not trade at a hefty premium.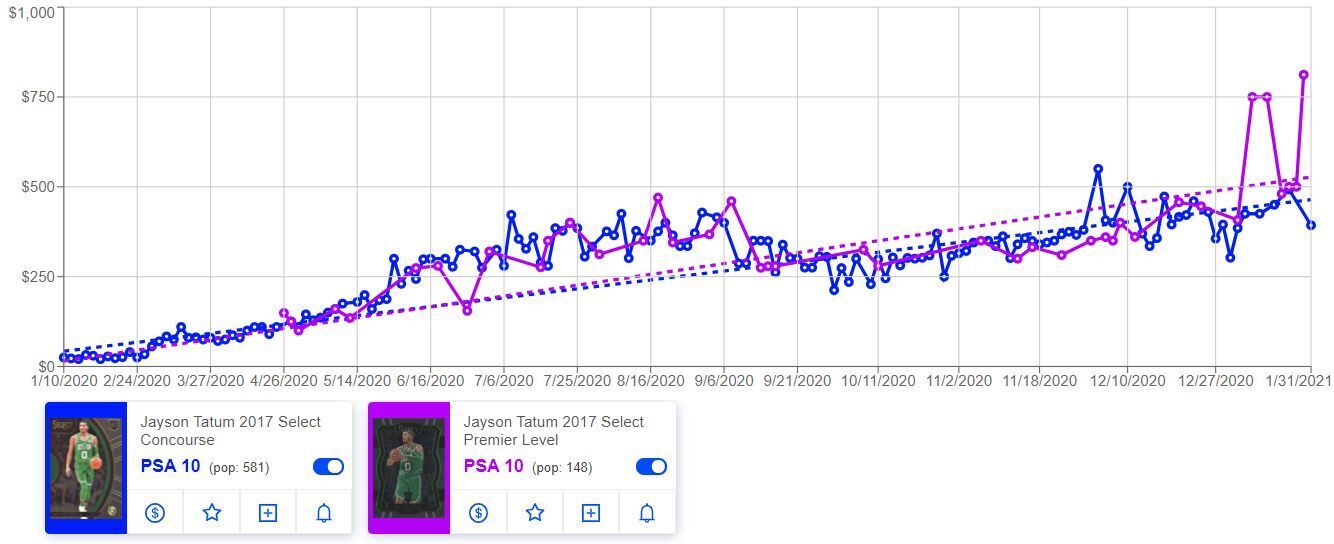 Beauty is always in the eye of the beholder and I for one am not a huge fan of the Premier design from 2018 which might account for some of the confusion there. I actually like the look in 2017 which makes the Tatum price chart above a little surprising. His Premier and Concourse are essentially tied together by some invisible and unexplainable force. The 2019 design is actually very cool as well and we are starting to see Premier pull away for Ja Morant above after trading very closely for a long time. I am going to be keeping an eye on this and if I can get Premier cards in the neighborhood of Concourse pricing for guys I like I will be very happy.
2012 Select Hot Rookies Inserts Is Where It Is At!
The 2012 basketball sets are loaded with talented rookies and make them a very popular year for collectors and investors alike. The 2012 Select set is a little challenging though to navigate. Not all rookies are included in the base set and none of them have rookie badges. That is why I think the card to chase is the Hot Rookies insert. Not only do they have a cool design but they also have "Rookies" on the card which I am sure means something to a lot of investors and collectors. The following chart might be the most absurd thing I have seen so far.
How in the world is that Prizm card at almost 100x the pop of the Hot Rookies insert trading at such a Premium? I really have no words or explanation and would love to know the rationale from any Prizm truthers out there. I suspect this pattern holds true for any of the big names from that draft class. If you are long on any guys from that class I would recommend the Hot Rookie insert as a nice long term option.
As always you can sign up for your own Market Movers Subscription to access the data on your own and by using the promo code GRINDERS you will get 20% off your first payment on any subscription.
Conclusion
To sum it up I love Select in general and even within the set see plenty of opportunities to zig when others zag. That being said you should collect the players, sets, and cards that you like. Other sets are also undervalued and ripe with opportunity. If you put in the time and research you may also find some places to get ahead of the field. Most importantly have fun and make sure you invest responsibly! Links to all of the cards talked about are linked after the article for your investment pleasure. I hope that you enjoyed this and let me know what you think below.