DraftStreet Mobile Launches Next Week! Our Full Review
DraftStreet is finishing up their final testing on their new mobile site and are getting ready to launch it next week! That's right, get excited DraftStreet enthusiasts because the daily fantasy sports giant has now created an incredible mobile page for users on the go. It is one of the best, if not the best, mobile sites I've seen for daily fantasy sports. It touches every base for a great mobile daily fantasy site and should really impress you. Not only is it functional, but it is fashionable as well. A chic design at every turn will catch your eye as you check out DraftStreet Mobile. So while they put the final touches on it for launch, RotoGrinders got the early scoop. Big thanks to DraftStreet for letting the RG Crew get the first look at their new mobile site, as RG continues to lead the DFS Industry in late, breaking news. Here is our full review of their mobile site.
Key Features
Join Leagues + View Active Leagues – Sign in on your smartphone and immediately you are given the choice to join new leagues or view your current leagues.
Set Your Daily Pick Em, Salary Cap or Home Run Derby Lineups – The best aspect of DraftStreet's mobile site is the ability to actually set your lineups from your phone seamlessly.
Sort Through Available Leagues with the same categories as their actual site! – Whether you want to sort by league size, sport, buy-in or game type, you can do so just like you would from their regular site.
Sort through the player pool by position, team, salary or fantasy points per game – Ready to pick your lineups? Well just like you could on a laptop, you can sort through their player pool by player name, team, position, salary or fantasy points per game.
Export and Import lineups from other leagues – This is the tool that will prove most useful for the DS faithful. Easily export and import your lineups across multiple leagues right from your mobile device.
Follow live scoring from your Active Leagues – Once the games kick off you can see a live scoring feed to all of your games for that evening.
All of this is now available to you on your Android, Iphone, Ipad or other smartphone device. It is really an impressive addition for DraftStreet as they continue to grow their brand. Check it out and if you haven't already joined, be sure to sign up through our exclusive RotoGrinders links and receive a 40% deposit bonus along with access to our Incentives pages!
Some Screenshots Of Their Mobile Site
Scroll through and check out some of the screenshots of DS Mobile. As they say, a picture is worth a thousand words and in this situation that's the truth.
Draftroom for their Salary Cap
MLB

Leagues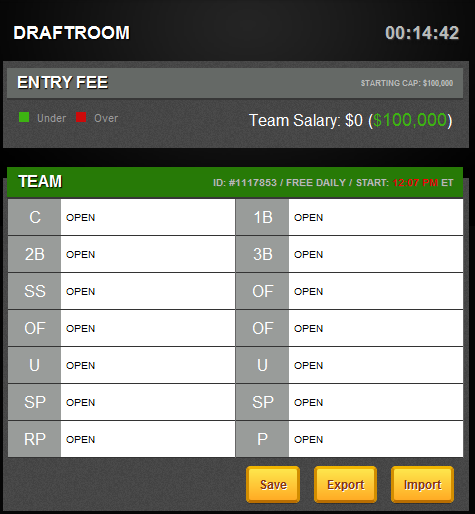 Their Player Pool With Sortable Options for a Salary Cap League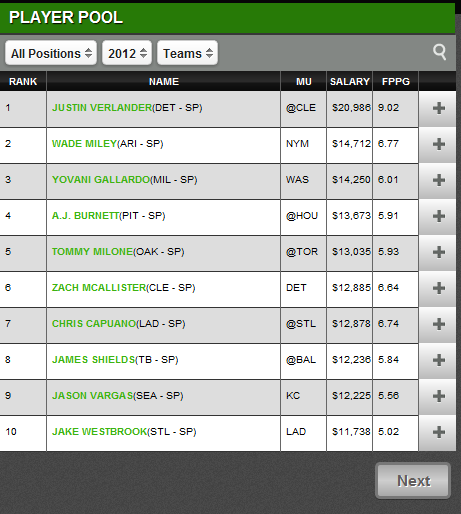 Your Lineup Is Saved: Note the Import/Export Features at the Bottom.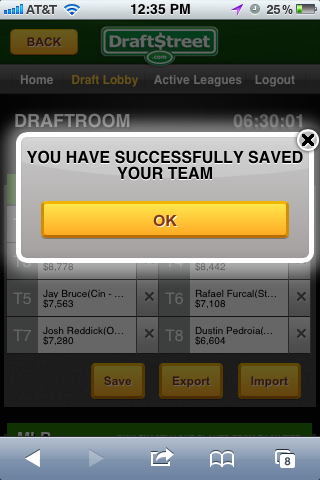 The DS Mobile Draftroom After You've Selected A Team for Pro Pick Em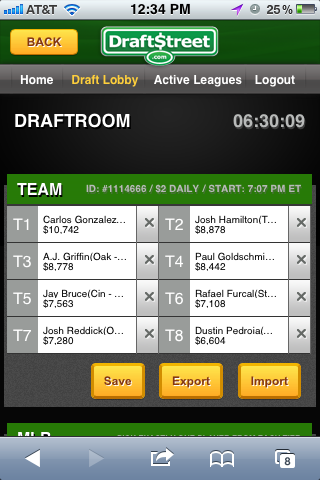 The DS Mobile Draftroom for Pro Pick Em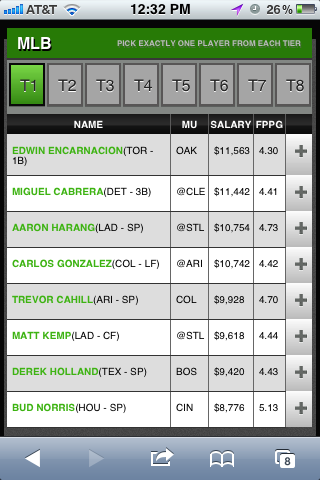 The Main Lobby Where You Can Sort Through League Features Before Choosing One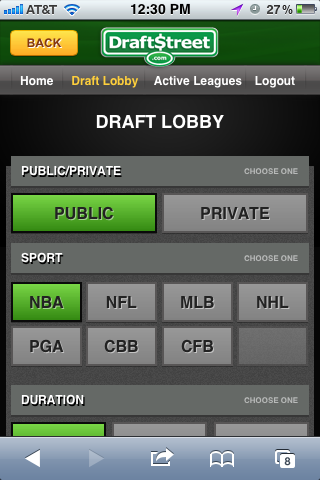 So if you haven't signed up for DraftStreet, click through our links to get a 40% deposit bonus plus our RG Incentives. If you are already on DraftStreet, be sure to try out their mobile site NEXT WEEK for your DSBC qualifiers as they wind down!