Maxdalury Moves Into First in Grinder Rankings

If you haven't been a RotoGrinders member for more than a year or two, you probably don't remember a time when a name other than "condia" sat atop our player rankings. In fact, since December of 2011, condia has been at top of the rankings as a permanent fixture.
Over the past couple of years, his lead had grown to a seemingly insurmountable advantage over the field, as evidenced by his dominant NBA performance which saw him end with around twice as many rankings points as the next closest grinder. In fact, it was the 2012/2013 NBA season which really saw condia's lead grow, while the 2013/2014 season was icing on the cake, as condia moved over 1,000,000 points, with no other competitors over 400,000.
But there has been a name lurking on the leaderboards for quite some time, a name that wasn't noticed or spoken about as often as condia until this year. High stakes play and a very high volume of tournament play has catapulted maxdalury all the day to the number one spot in our grinder rankings, the first change at the top of this leaderboard in quite some time.
*Maxdalury's name has been quite often discussed this year, as his style of multi-entering contests has been the topic of much debate. But what isn't debatable are his recent tournament results, with first-place finishes in large field MLB and NBA GPPs this year, in addition to a runner-up finish in the Masters Millionaire Maker.
Max has qualified for live finals, including this season's DraftKings NBA championship, where he spoke to our Dean78904 and shared some insight into his approach. He's not a believer in luck or heaters, and he doesn't second-guess his approach. When you see the results on the leaderboards every night across the industry, it should come as no surprise.
Here's a quick look at some of max's biggest results, including his high finishes in Tuesday night's MLB Mega Monster on FanDuel which helped move him into the top spot. (You can find this new feature in our rankings section.)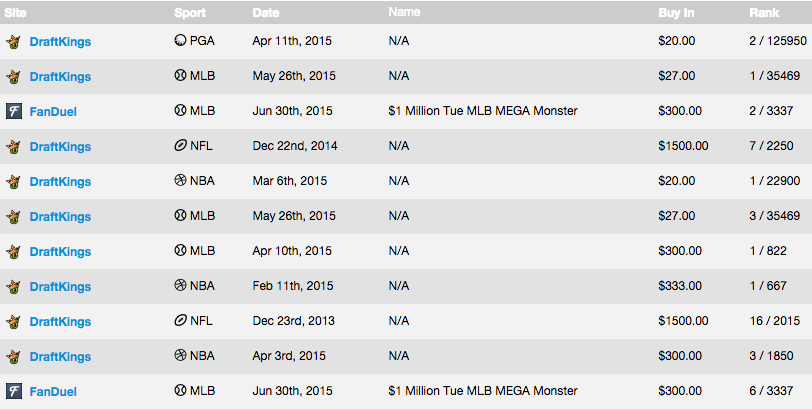 I reached out to maxdalury for comments on his inevitable ascent to the top spot in our rankings, and he told me that he started playing DFS back when Daily Joust was among the biggest sites in the industry, and he thought at the time that he knew everything there was to know about sports. But like most of us, he struggled at first, not really having a grasp on the mechanics. "I played all Red Sox hitters in a doubleheader thinking I would get points from both games," he told me.
But he grew from there, learning the strategies of daily fantasy, and focusing on improving his processes and methods. He told me his focus is to be prepared for every single day of DFS, which means refining how he approaches the game, and influences the amount of time he spends working on research and lineups. "If you are playing DFS at a high level, you have to be dedicated."
His dominance of the Micro Millions events on DraftKings is the highlight of his DFS career, a weekend when seemingly every contest ended with max in first or somewhere near the top.
The DFS industry continues to grow, and tournaments will continue to grow in size and scope along with the sites that host them. There will be more and more "single bullets" flying to try to take down multi-entry specialists like maxdalury.
But sound process, great research and a resilient mindset will keep talented tournament players on top in the long run, because it only takes one or two big nights to pay off the nights of negative returns caused by this boom-or-bust strategy.
"I am honored to pass condia, a true legend of DFS." It is truly an accomplishment to grind to the top of our leaderboard, especially considering the massive lead condia held just months ago. Congratulations to maxdalury, and good luck to everyone else grinding for the top spot. As we've seen, the #1 position is not untouchable, and the race for the top hasn't been this competitive for quite some time.