Rise & Grind: NFL Week 7
Welcome to the RotoGrinders Rise & Grind NFL edition! We have a huge week of NFL action approaching, so let's take a quick look at some upcoming tournaments and the Grinders Live schedule.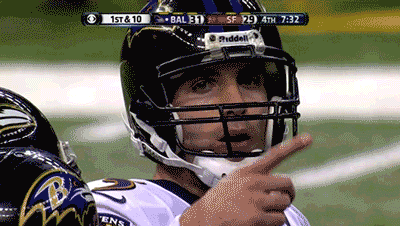 In Case You Missed It
We have seen some incredibly big GPPs this NFL season, and it seems every week they are getting larger. Here's a look at a few of last weeks biggest winners.
In the FanDuel $1.75M Sunday Million, user abracadabra010 took advantage of Joe Flacco's five first-half TD passes and paired him with WR Torrey Smith (19.1 FD points) and Steve Smith (19.5 FD points). His lineup scored 192.34, which was more than enough to take down the $175K first place prize.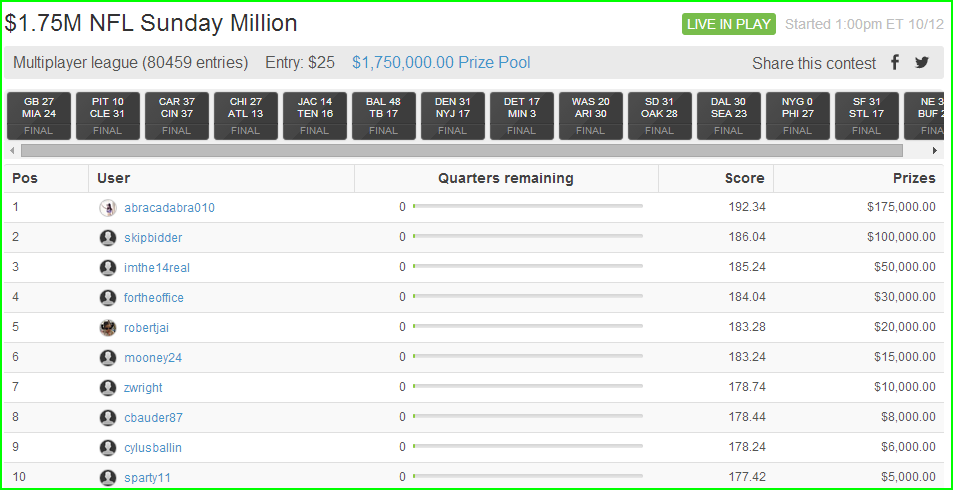 Over on DraftKings, the $2.2M Millionaire Maker ran for a second week in a row, resulting in another DFS millionaire being made this weekend.
Jquave76 put up a huge score of 229.84 and was rewarded with the cool $1,000,000. Talapia69 finished in a close second, scoring 227.64.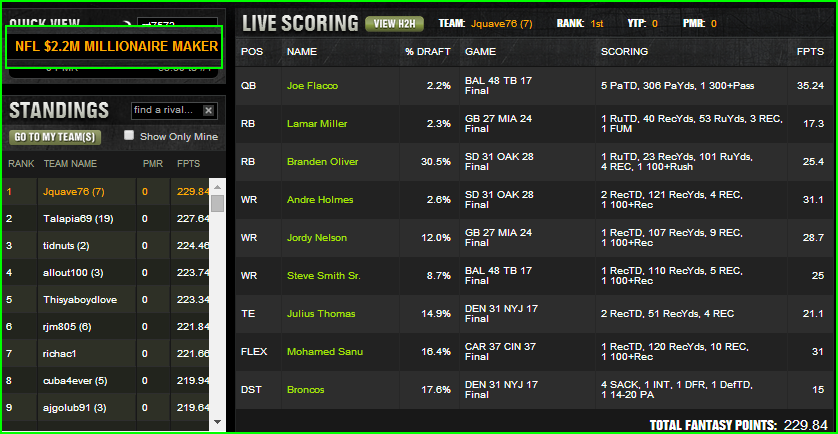 For all of the weekends big winners, check out the Daily Fantasy Tournament Links thread here. In next week's Rise and Grind, I will break down all of the live final qualifier winners so far this NFL season.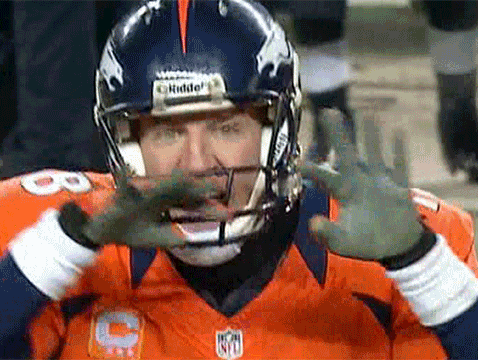 Grinders Live 2014: Week 7

NFL

Schedule
Here's a look this week's upcoming NFL Grinders Live episodes.
Grinders Live Schedule

TIME

SHOW

WED

8:00 PM

NFL

First Look
—————————————————————————————————————————————The

NFL

content will begin on Wednesday night with

NFL

First Look (8:00 ET). This show will be hosted by Brit Devine (Top 50

NFL

Ranking), BoggsLite (Top 100 Ranking) & Chris "Beermakersfan" Prince (2011

FFFC

Champ & recently featured on

ESPN

). These top players will give you their first impressions going into Week 7. —————————————————————————————————————————————

THURS

7:00 PM

NFL

GameNight
——————————————————————————————————————————————On Thursday night (7:00 ET) we bring you

NFL

GameNight to help you put those finishing touches on those early week

NFL

lineups. Emac (Top 50 Ranking) holds the hosting reigns and will by joined by top ranked player STLCardinals84 & new addition to GrindersLive, Bryan Fontaine. Fontaine spent a number of years writing for Pro Football Focus & wrote one of the most popular Daily Fantasy articles on RotoGrinders last football season. —————————————————————————————————————————————

FRI

8:00 PM

NFL

Experts Roundtable
—————————————————————————————————————————————The big boys come out to play Friday on the

NFL

Experts Roundtable . This show is hosted by former

FFFC

champ and recent $1 million winner Peter Jennings (CSURAM88). He will engage in deep thinking daily fantasy football discussion with last year's

TPOY

Champ Al Zeidenfeld (AlSmizzle) and Adam Levitan of Rotoworld.com. Adam has won multiple

FSWA

writing awards and has become one of the first mainstream fantasy writers to embrace and analyze fantasy on a daily level —————————————————————————————————————————————.

SUN

10:30 AM
The Opening Drive
——————————————————————————————————————————————On Sunday morning we will bring you two hours of entertaining and informative Daily Fantasy discussion before rosters lock for the day. The Opening Drive (10:30 ET) will pit Dean78904 alongside

STLC

ardinals & DraftCheat (Top 10 Ranking &

TPOY

) for your early look at the top plays of the day. Our

NFL

GameDay show begins at 11:30 ET, as our Sirius XM Fantasy Sports Radio combination of Dan Back & Al Zeidenfeld are joined by top 50

NFL

grinder John "TipandPick" Lee. John was a finalist in the DraftStreet Football Championship last year & joined the popular site Footballguys.com as their lead Daily Fantasy contributor —————————————————————————————————————————————.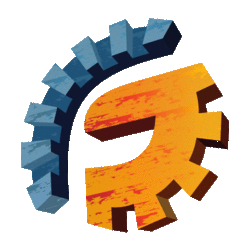 Remember all of these shows can be watched on demand after the original air date by visiting the Grinders Live homepage here
Giant

GPP

s Everywhere! We have some massive

NFL

action this week on every site. Here's a look at some of the biggest games available.
FanDuel
TOURNAMENT

BUY

IN

PRIZE

POOL

$2M

NFL

Sunday Million
$25
$2,000,000
$500K Sunday Kickoff
$10
$500,000
$500K Sunday Monster
$200
$500,000
$225K Thursday Bomb
$25
$225,000
$80K Thursday Rush
$5
$80,000
$2

FFFC

Qualifier
$2
$103,500
$5

FFFC

Qualifier
$5
$103,500
$10

FFFC

Qualifier
$10
$103,500
$25

FFFC

Qualifier
$25
$103,500
DraftKings
TOURNAMENT

BUY

IN

PRIZE

POOL

NFL

$2.2M Millionaire Maker
$27
$2,200,000

NFL

300K Sunday 300 Grand
$200
$300,0000

NFL

$100K Play Action
$2
$100,000

NFL

100K Thursday Gridiron
$27
$100,000

NFL

KOTB

Qualifier
$12
$65,000

NFL

KOTB

Qualifier
$27
$65,000

NFL

KOTB

Qualifier
$1000
$65,000

NFL

40k Hail Mary
$12
$40,000
FantasyAces
TOURNAMENT

BUY

IN
Format

NFL

Top 15 Guarantee Thurs-Mon
$15
Classic

NFL

Week 7 20K +FAFC Qualifier
$109
Classic

NFL

Top 20
$11
Classic

NFL

Top 30
$5.50
Salary Pro
DraftDay
TOURNAMENT

BUY

IN

PRIZE

POOL

NFL

$15K The Benjamin
$100
$15,000

NFL

10K Frenzy
$15
$10,000

NFL

5K Third and Short
$3.30
$5000

NFL

$1K Thursday Frenzy
$20
$1000

NFL

$1K Limelight Primetime
$109
$1000
Is there something else you'd like to see in this column? Questions or comments? Leave them below and we'd be happy to consider them. See you next week!