RotoAcademy Preview: How to Beat PGA DFS
The demand for PGA DFS continues to grow, and all major content sites have made it a part of their core product. There is an overload of golf content out there but very little information on how to improve your game.
Rather than listen to everyone else's advice, you should use your own process to create profitable PGA teams, which this course will teach you how to do.
JMToWin and Notorious cover everything you need to know about the sport, from breaking down a course to the most predictive statistics to the difference between cash game and tournament strategy.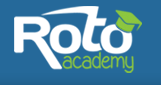 RotoAcademy offers one-of-a-kind, data-driven content.