Sports Tradex Basketball Championship Info and Strategy
The Sports Tradex Basketball Championship (SFBC) is here. It's a $10,000 guaranteed contest with a $200 buy-in. First place walks away with $3,000 and bragging rights of being the Sports Tradex basketball champion. The contest is limited to 55 entries. Since we're already over half-full (as I'm writing this), make sure to join relatively early so you don't miss out.
If you are unfamiliar with Sports Tradex, our most unique characteristic is that we solely offer pick'em games. Our tiered draft game is our most popular option, where you choose a roster from four tiers. The elite players (LeBron James, DeMarcus Cousins, etc.) are in Tier A all the way down to the scrubbier players in Tier D.
The default option in our game is an eight-player team comprised of two players from each tier (2 As, 2 Bs, 2 Cs, and 2 Ds). However, you have the option of choosing a seven-player team with more Tier A Players (3 A, 2 B, 1 C, 1 D) or a nine-player team of more lower tier players (1 A, 3 B, 2 C, 3 D).
Ultimately, the best strategy depends on the day. Sometimes it is better to play it safe and go with fewer players but more superstars, and other times there is so much value in Tier C and Tier D that the nine-player team is the way to go. Let's review some of the top plays for the SFBC.
Tier A: DeMarcus Cousins
Yes, Russell Westbrook is playing, but no Russell Westbrook is not available in our pick'em games tomorrow. Quite simply, we'd need to create a whole separate A++ tier for him when Durant is out, otherwise he'll be 100% owned.
Even without Westbrook, there are quite a few intriguing A tier players. With LaMarcus Aldridge out, Damian Lillard becomes a very high floor/ceiling player. The point guard facing him, Stephen Curry, also will likely be popular.
However, my favorite player from the A tier goes to DeMarcus Cousins. The Philly-Sacramento game screams high scoring, and Philadelphia seems incapable of defending centers lately. Provided there are no health issues, Cousins stands out as the premier A tier play to me.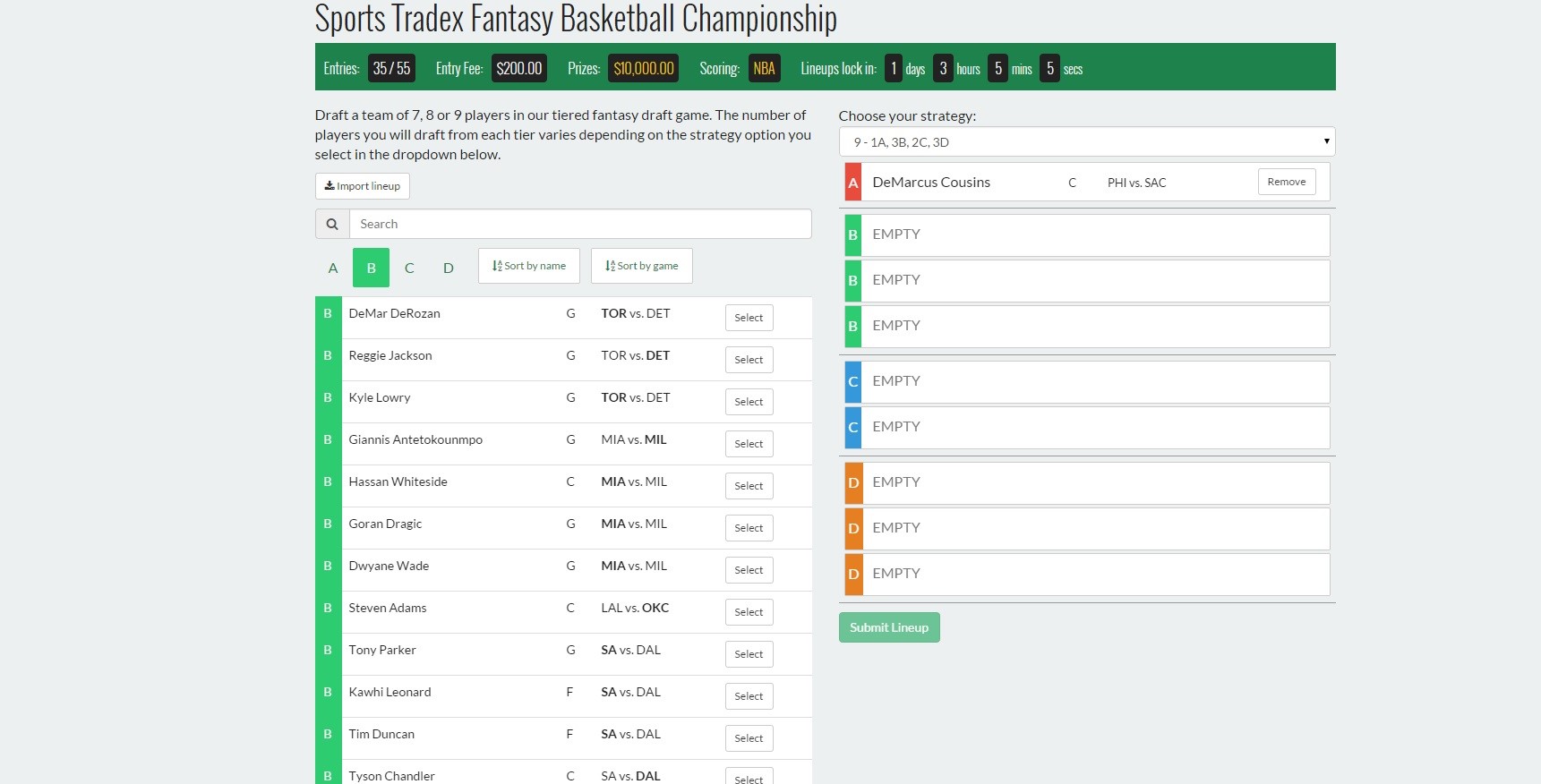 Tier B: Kawhi Leonard
There's a lot to like in Tier B in the SFBC. I'm giving Kawhi Leonard the nod as my favorite of the list. The Dallas-San Antonio game is projected to be close, and Leonard's minutes and production is generally fairly safe as long as the Spurs aren't involved in a blowout.
Tier B (Runner Up:) Reggie Jackson
A lot depends on whether Greg Monroe will suit up on Tuesday, but either way Reggie Jackson has been playing like Russell Westbrook light while Monroe has been out. He nearly triple doubled on Sunday and did in fact triple double last Wednesday against the 76ers. Lowry is a good defender, but Jackson should still have plenty of production.
Tier C: Robin Lopez
Once you get down to Tier C and D, you're generally looking for injury-related value. As I'm writing this, I don't know yet for sure how many inactives there'll be. However, Portland for sure will be shorthanded in their frontcourt, making them rely more so on Robin Lopez.
Not only do I expect Lopez to play as many minutes as he can handle, I expect he'll have a much higher point-per-minute production with Aldridge out. A double double is likely in order here.
Tier D: Jerami Grant
Stacking the Philly-Sacramento game may prove to be a great strategy. If that's the case, Jerami Grant is your man from Tier D. He's one of the few players in that tier who is generally guaranteed at least 20-25 minutes and can also produce across all statistical categories.