SportsTradex MLB GPP Tips: Thursday, May 28th
Today is our main day for GPPs this month at SportsTradex, and we have two great GPPs for you to join. The first is our $15,000 "Hot Dog" that features a $5,000 first place prize and $200 buy-in. This contest is almost full already, so be sure to enter early for your shot at the grand prize. The other GPP is our $5K "Souvenir Soda" that sports a $1,000 first place prize and just a $25 buy-in.
Both GPPs use our tiered draft format where you can choose a 9, 10, or 11 player team. If you choose the smaller team, you can draft more Tier A players (i.e. elite pitchers). The other teams allow for a larger roster with more Tier B and C players (good hitters and scrub pitchers basically).
Let's go through some of my favorite players in each tier.
Tier A: Ian Kennedy
You're probably thinking "What? Shouldn't it be Kluber or maybe Burnett?" And yes, I think those are great options as well (as is Shelby Miller). However, I think Ian Kennedy's stock is at an all time low right now, and Vegas would back me up on that. The Padres-Pirates game is about a pick'em with a low over-under.
Kennedy is pitching at home, and I believe most people will favor the other top pitchers over him, making him a great contrarian play.
Tier B: Buck Farmer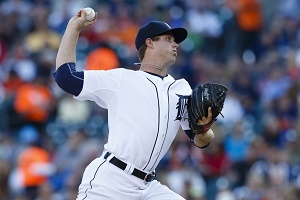 In Tier B, you can draft either elite hitters and/or scrubby pitchers. If you choose to draft a pitcher, it can be a really hit or miss proposition. A pitcher with a solid outing can easily outscore a hitter that even homers. However, a pitcher that gets shelled can have a large negative score (ERs are counted as -4.5 at SportsTradex), so be careful!
If I'm going to take my chance on a young, inexperienced pitcher, this may be it. His career K/9 rate in the minors is 9.2, and that translated into 11 Ks in 9.1 innings last year in the big leagues. Of course, he also gave up 12 earned runs in those 9..1 innings, so his big league experience hasn't gone well so far. But if he's going to put up a good outing, it would be against one of the league's worst offenses in the Angels. Even though they have Pujols and Trout in their lineup, they are still in the bottom 5 in the league in runs scored.
Tier C: Adrian Beltre
I've given a few contrarian picks, so here is more of a chalk play. The Red Sox-Rangers game is slated to be the highest scoring game tomorrow. Taking the power hitting right-handed third basemen against the young Red Sox lefty is pretty much a no brainer.
Tier D: Billy Butler
Butler mashes left-handed pitching, and Sabathia is definitely capable of being mashed. While I think you can't go wrong taking a few more Red Sox and Rangers players from Tier D, Butler strikes me as the clear value from this tier.
If you haven't signed up yet at SportsTradex, there's no better time to start than now. Be sure to use bonus code GRINDERS to get a signup bonus of 150% up to $750!