2015 DFS Players Conference Recap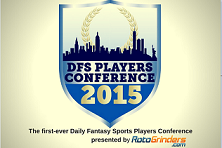 The first-ever Daily Fantasy Sports Players Conference, presented by RotoGrinders, kicked off on Thursday, November 12th and went until Saturday the 15th in Times Square in New York City.
This event was designed to help people of all levels become a better daily fantasy player, and help connect them with the industry, in order to increase their potential as a player.
The conference was built on the foundation of what every player needs to become a successful DFS player: strategy, tips and tricks, which tools are the best and how to use them, and many other key components that make up a winning DFS player.
DFS Players Conference: Opening Night
The kickoff party started the conference off Thursday night, as attendees got together to watch the Jets and Bills play on Thursday Night Football. The party was located on the balcony of the ninth level of the great Marriott Marquis hotel. The night was very laid back and a perfect way to start off the conference. This was a great chance to get to meet fellow daily fantasy sports players and meet some of the top guys in the industry. The party consisted of TVs everywhere to watch the Thursday Night Football game, an open bar and delicious food. I was able to catch up with old friends and meet many of the attendees for the first time.
One thing that is so great about DFS is how open and friendly all the top players are. I remembering walking around and hearing conversations about all sorts of topics, some of which included strategy, bad beat stories, NBA tilt (thanks Chris Paul / Blake Griffin) and "Hey, you're famous."
DFS Players Conference: Day 2
Day 2 started off bright and early! A rally to support daily fantasy sports, especially in New York, was put together outside of the Attorney General's office. Here hundreds of avid fantasy players gathered to protest the recent actions of the AG.
Everyone headed to the subway station, and a few stops later, we were at our destination and fighting for our right to play daily fantasy sports. T-shirts were given out to anyone who was protesting, and chants of "game of skill", "fade the AG", "let us play" and many others broke out. The overwhelming number of people that came to protest was amazing to see. It really showed just how much people enjoy playing fantasy sports and how it would be a travesty if that right gets taken away.
CEO Chat with Nigel Eccles of FanDuel
Immediately after the rally was over, we headed back to the hotel for a special one on one interview between Dan Back and Nigel Eccles, CEO of FanDuel, to discuss the recent events that have occurred in the industry.
This was truly a special treat to be able to have someone like Nigel answer the questions on everyone's mind. Dan Back did a great job of asking the tough questions and we got an inside look into the life of the CEO of FanDuel.
Session Blocks
After the interview was finished, we headed up to the ninth level of the hotel to begin the lectures on topics like the process of a top cash game player, bankroll management and MLB modeling. (Derek Carty: MLB Modeling, Drew Dinkmeyer: Bankroll Management)
Nick "Lucror" Dunham is one of the winningest players in cash-game DFS history. In his lecture, "The Process of a Top Cash Game Player", he spoke on topics like game selection, bankroll management, risk of ruin, and how to adapt to the ever-changing game of daily fantasy sports.

KEYNOTE SPEECH: Matthew Berry of ESPN
"Don't be afraid to take a different path in life"
One of my favorite moments from the Players Conference was listening to Matthew Berry's speech. It was a great little break from DFS related talk, and "TMR" was truly inspirational.
Berry went into detail about his rise through the industry of fantasy sports and all the obstacles he had to overcome.
I realized just how much this man loves fantasy sports and how he was willing to do all that he could to share it with others. Berry was entertaining, informative, funny and extremely passionate, and he left you motivated to go conquer your aspirations.
CEO Chat with Jason Robins of DraftKings
We had another session block after Matthew Berry and then a short "lineup" building break before heading to the one on one chat with Jason Robins, CEO of DraftKings.
This was very similar to the Nigel interview, but from a DraftKings perspective. Something I have always liked about hearing Jason Robins talk is how he is very straightforward with his answers. Dan Back asked him tough questions and Robins did not hold back.
To have the CEOs of both FanDuel and DraftKings willing to sit down and talk at a time like this really showed how much they care about the industry, and it made me feel confident that they are doing everything they can to fight for daily fantasy sports.
Perfect Lineup: World Premiere and Release Party
To end day two of the DFS Players Conference, there was food and open bar and the premiere of the Perfect Lineup movie, and what a great movie it was. It's highly recommended viewing for anyone that's interested in learning more about the daily fantasy sports world.
After a long day of lectures, many also took full advantage of the open bar.
DFS Players Conference: Day 3
The final day was upon us and packed to the brim with learning. Due to all the industry news and with the adding of interviews with both Jason Robins and Nigel Eccles, the schedule changed around, meaning Saturday was going to be a busy one. We started off with three and a half hours of lectures from some of the industry's best players.
Session Blocks
This was a time to really sit down and become better at daily fantasy sports. The session blocks included topics like:

— College Football 101: STLCardinals84
— Tools & Scripts in DFS: Riley Bryant and NicSlim
— Building Winning NFL Lineups: JMToWin
— Bankroll Management: DinkPiece
— NHL 101: Lowkey
— Transitioning from season long to DFS: Evan Silva & Adam Levitan
— NBA 101: JeffElJefe
— NFL Modeling: DraftCheat
I can honestly say, after sitting through these lectures, there is no doubt why they are some of the most successful DFS players in the world. There were two things that really stood out to me that they all had in common. The first? None of them try to be anyone but themselves. They are aware of their strengths and weaknesses and are consistently making +EV decisions that make them win over the long run.
It was also interesting how some of the stuff they said should be "common sense" when it comes to that specific sport, but that there are some other factors many people (including myself) have never thought of. It made me realize just how important a strong foundation of knowledge is in daily fantasy sports in order to be successful.
After many hours of learning, the attendees took a break for lunch and then headed off to the industry panel chat.
Industry Panel
(From left to right: Dan Back (RotoGrinders.com), Andy G (FanDuel), Cal Spears (RotoGrinders.com), Peter Schoenke (RotoWire.com) and Drew Dinkmeyer (DailyRoto.com)
The industry panel was a time to hear the thoughts of some of the pioneers of the daily fantasy industry. It was an opportunity to dig into the motivations, plans and insights of some of the most important people in DFS.
It was a very cool event that allowed you inside the mind of some of the most influential people in the daily fantasy sports scene.
FanDuel Playboy Mansion Qualifier & Party
The Daily Fantasy Players Conference was coming to an end, but we still had one very important and awesome thing to do, party and play DFS!
The room for the party was simply awesome. There were TVs everywhere to watch the games and sweat the live final, amazing food, great view of NYC, and, of course, an open bar.
After a very long and action packed weekend, attendees really let loose, socialized, enjoyed themselves, and experienced a DFS live final-like atmosphere.
(From left to right: RadThad, CrazyGabey, DraftCheat, Dan Back, Adam Levitan)
Also, we had a TIE for the Playboy Qualifier! FanDuel was nice enough to take care of both winners.
The Daily Fantasy Players Conference concluded after a long night of partying, late night bowling and finding CrazyGabey walking the streets at 4:30 a.m. after being denied entrance into a club due to him wearing shorts.
What a conference it was. I can only personally talk from my perspective, but the event was a total success and more than I ever could have imagined. I was able to catch up with old friends, meet many new ones, and learn more about DFS than I thought was possible.
I want to say a BIG thanks to RotoGrinders for putting this event on, along with the incredible planning of the Verano Group, FanDuel and all the other sponsors. Simply put, was awesome and educational, and I cannot wait for the next one!