Advanced NBA GPP Strategy
We have had lessons on the different strategies that you should be employing in your different types of leagues. If you haven't read those lessons, be sure to check them out. In short, when you are playing in cash games (H2H & 50/50s), you want to take a more conservative approach when selecting your lineups. You want to take players with as little risk as possible because the league structure benefits this type of strategy. Since you only have to beat half of the field, you don't have to take as many chances as you might in a GPP.
In contrast, when you are playing in GPPs, you should be targeting players who have a higher ceiling or higher upside. Those players are often referred to as boom-or-bust players. The reasoning is that you often need to beat out 90 percent of your competition in order to cash in GPPs. While these two aren't always mutually exclusive, it's important to match your strategy with the type of leagues that you are playing.
Now let's get to the advanced strategy of GPPs. This lesson will dive into the best approach that you can take in GPPs based on how many entries you have in a single tournament.
Advanced

GPP

Strategy
We know that in a GPP you want to target players with a high ceiling because you need those monster fantasy games to place. However, we haven't covered the strategy that you should employ based on how many entries you put in. Most of the large tournaments in the industry have no cap to the number of entries that you can have. Should you treat your lineup selection process the same whether you have one or 50 entries? Not necessarily, because your goals are often different.
Single Bullet Entries
This is the most common type of entry into a GPP. Most of us daily fantasy players like to take a shot at large field GPPs, but don't want to invest a large portion of our bankroll into a single tournament. When you only have a single entry, your main goal is to cash with that entry. You only have one shot and you want to make it count.
With a single entry, you have to realize that you won't be able to cover all your bases. You aren't going to be able to take a bunch of different contrarian plays because your roster simply isn't big enough. Not only that, but contrarian picks are contrarian for a reason. These are the picks that are completely off most people's fantasy radar. With a single entry, you can't afford to waste it with a bunch of random picks that don't end up working out.
Instead, I've always found that a value approach is a better strategy for single entries. The way I would construct a lineup in this scenario would be to treat it like you would a cash game. Find the best value at every position and start to create a team that should post a solid score. Then take a couple of chances on some upside plays. Not random shot-in-the-dark type of plays, but players who have that boom-or-bust tag associated with them. As long as your value picks all play well, your high upside players will give you a decent shot at cashing in these GPPs.
Entering 2-10 Teams
Now, if you decide that you want to test your luck in one of these big tournaments and decide to do multiple entries, you have a little more wiggle room to take chances. Due to the larger number of teams that you will be creating, your potential player pool will be much larger as well. You now can start thinking about taking a few contrarian plays here or there.
When I have a number of different lineups that I am entering, I like to cover my bases as much as possible. I like to have a couple of teams that have the top plays of the night, a couple of teams with the plays that are flying under-the-radar, and a couple of teams that have a nice mix of both.
There are two ways to approach multiple entries. If you are building a team and love the core of that team, you can keep that same core throughout all of your lineups and then switch out a few players on each team to get a bunch of different combinations with that same core group. We see a lot of players in the industry take this route. As long as that core group of players performs well, you will likely have a nice combination of players to put you over the top.
If you like to diversify, you can take a different approach and make sure to not take the same players on more than a couple of teams. This will give you exposure to a larger number of players, but then you have to rely on hitting that right combination of players. Both are solid strategies and you should play around with both to see which one works best for you.
10+ Entries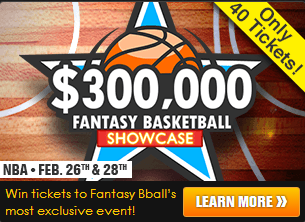 When we are talking about putting 10+ entries into a single tournament, this is where the top fantasy players in the industry make a name for themselves. In certain tournaments, you will see the top names in the industry put as many as 50 entries into a single tournament.
If you are putting in this many entries, your goal is simple: you want to win that GPP. Cashes will be nice, but in order for it to really pay off, you want to take first. And in order to win it, you have to have a team that is nearly perfect. You have to have that contrarian play or two that nobody else has. For that reason, you want to cover all of your bases, even more so than if you have 2-10 entries. If you have a lot of lineups, you can afford to take risks and that's exactly what you should be doing.
Everyone has their own method of creating a large number of GPP lineups, but I've always found that a quick excel spreadsheet is a nice route to take. It can help you save time and also map out how often you want to use a certain player. If you really like a player's matchup that night, you can target him in, say, 40 percent of your lineups. Using excel can quickly help you keep track of this. For me, this is a much better approach than to just randomly create 50 different teams. If you were to do that, the odds are that you would under-play certain picks and over-play other picks.
Keep this in mind the next time you are playing in a large GPP. If your goal is to cash in the GPP and you only have an entry or two, you might be better served to play it a little safe with a couple of upside plays. If your goal is to win the GPP and you have a bunch of entries to throw in, you are better off covering all of your bases.