Basic 50/50 and Double-Up Strategy
50/50's are one of the most popular types of game formats in daily fantasy sports. (On some sites, 50/50's are referred to as double-ups. These terms are interchangeable.) This type of league offers players a great way to build their bankroll and get used to the daily fantasy sites before hopping into some of the bigger tournaments. The most basic concept of a 50/50 is that the top half of the league will win and the bottom half of the league will lose.
How it Works
A 50/50 is typically a large field league that usually ranges anywhere from 10-200 entries, depending on the site. The goal of a 50/50 to is finish in the top half of the field, because if you can finish in the top half, you will get paid. Meanwhile, the bottom half of the field loses their entry fee. For instance, in a 100-man $11 50/50 game, the 50 players with the highest score will all "double-up" their entry fee and get paid, while the bottom 50 players will lose their $11.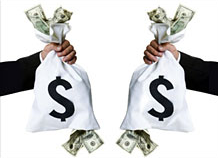 The interesting concept about 50/50s is that the top half of the field all gets paid the same amount. Continuing with our earlier 100 man example, all players that place in the top 50 will win the same amount ($20), regardless of whether they finish 1st or 50th place. On the other side of that, if you finish in the bottom half, anywhere from places 51st to 100th, you will lose your entry fee of $11.
50/50 Strategy
When you play in H2H or 50/50 leagues, your strategy should be much different than if you are playing in a GPP. Since you only have to score higher than half of your opponents, you should use this to your advantage by employing a strategy that best fits this type of league.
If you remember back to the first lesson about head to head play, we decided that it is usually better to play it a bit safer in head to head leagues than in large field GPP's because you don't need to take as many risks to beat one person as you do to beat 100. In a double-up, you should be using a similar strategy and may want to play it even safer. Since you only have to beat half of your opponents, you should focus on putting together a solid lineup that is full of consistent fantasy players.
The way that I like to make a team for double-ups is to find the best value that I possibly can at each position. A 50/50 is the one type of league that you don't mind having players that are highly owned by your opponents because if a certain highly owned player does good and you don't have him, you may find yourself behind 60% of the field. The smart picks are the good picks in double-ups.
Size of the Double-Up
One of the biggest advantages of playing in double-ups is being able to control the amount of variance that you experience in your leagues. Since you only have to beat half of the field, you won't have to worry about one or two teams that have a high score, all you have to worry about is how your team is playing compared to the rest of the field.
Controlling variance is important is DFS and when it comes to the size of the double-up, you can control the amount of variance even more. The larger the size of the double-up, the less variance you are going to have because your team will be compared to a much larger sample size. For example, if you join a 10-man double-up, you could potentially get a bad draw and get stuck against 7 opponents that put up really high scores that night. However, if you join a 200-man double up, there are going to 199 other opponents that you are competing against and you will have a much better idea of where your team stacks compared to the average.
Triple-Ups
Many sites are now coming out with triple-ups that have the same basic concept as a double-up, only the top third of the field gets paid compared to the top half. This league is a great way to boost your bankroll because you will win 3x your entry fee. In a 90-man triple-up that costs $11 to enter, the top 30 would win $30 each because they placed in the top third of the league, and the bottom 60 will all lose their entry fee.
Triple-Ups should be treated like a 3-man league. If you decide to play in triple-ups, you may want to adjust your strategy accordingly. Your strategy in a triple-up should differ a little from your strategy in a double-up because you now need to place in the top third.
Next Lesson – NFL > UnderGrad > Game Types >
Large Field Events