Basic Daily Fantasy Tournament Strategy (GPP)
The most enticing type of daily fantasy game is the large field multi entry GPP (GPP is an abbreviation for "Guaranteed Prize Pool"). These tournaments have seen exponential growth over the years – we now have big championship tournaments paying out a whopping $1,000,000 to the first place finisher!
With life changing money up for grabs most players are attacking these tournaments as aggressively as possible. That mentality helped me take down the $150,000 first place prize for FanDuel's 2012 FFFC event. The question then becomes what type of strategy to deploy and how can you give yourself an edge vs the rest of the field.
Understanding

GPP

Tournaments
There are two main factors to look at in a GPP that will determine what type of strategy will be optimal for you:
#1) How is the Prize Pool Structured?
Does the tournament payout a high percentage of players (top 10% <)? Is the payout top heavy? If it's top heavy, you want to spread your entries out with a large variation of players to have as many chances as possible at that significant 1st place payout. If it's a smoother payout curve, you can enter multiple similar lineups and try to cash a larger amount of entries. In qualifiers for events such as the FFFC or DFFC, where 1st place gets the trip to Vegas and the entry into the main event, you want to spread yourself wider than a typical GPP tournament.
#2) How many entries are you going to put in?
Depending on how the payout is structured and what your bankroll is will help you decipher how much many entries to put in. Once you figure out how many entries you are willing to put in that will dictate what type of strategy will be the most +EV. Again for events like the FFFC or DFFC, you probably either want to go all in or avoid them. For more in depth multi entry strategy check out the PHD courses by Sport.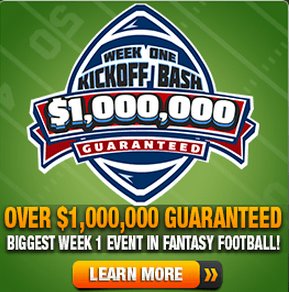 Single Entry Tournaments
A game-type that is increasing in popularity is single entry tournaments. These are large prize pool events where each user is restricted to a maximum of 1 entry. If you're a new player looking to dip your feet in the water, but don't want to run into some of the bigger bankroll players with multiple entries, this is likely the best entry point.
Single entry tournaments allow you to create lineups similar to how you would for head to head or 50/50 games, but compete for larger payouts. The biggest downside to single-entry events is that the prize pools aren't nearly as large as some of the other guaranteed tournaments to daily fantasy football.
Regardless, finding a single entry tournament at a suitable buy-in level is a nice 'happy-medium' for players who don't want to start out by playing head-to-head or double-up style games.
Satellite Tournaments
Another important type of large field event you can enter is a "satellite" tournament. Many sites will run satellites where you can earn vouchers to more expensive events. For example, a $10 buyin, 10 man satellite tournament would pay the winner a $100 ticket into a larger event. Some of these satellites are "super-satellites" where there are tickets awarded to multiple players.
In these events, it can be useful to enter the same lineup multiple times. If that lineup hits, you'll earn multiple seats to the larger event which, as we established earlier, is a necessity to give yourself the best possible opportunity to take down a monster prize.
Next Lesson – NFL > UnderGrad > Game Types >
Freerolls and Deposit Bonuses