Basic Head to Head Strategy
When you first enter the wonderful world of daily fantasy sports, there are a few things that you need to understand before jumping in leagues and making teams. As a daily fantasy expert that has been around since the beginning, I've learned that there are different types of players in this industry and figuring out which category you fit in is a huge key to your success. Understanding the different types of game-play and the variance associated with each will help you determine which league type is best for you. Today's lesson is going to be on head to head leagues.
How it Works
A head to head game is the most basic game type in all of daily fantasy sports. The name pretty much says it all, you are going to be playing against one opponent in a winner take all league where the team with the highest fantasy point total will win the entire prize pool. Every daily fantasy site offers this type of league and the smaller stakes head to head games are a great way for beginners to get their feet wet in daily fantasy sports. Use the filters in the draft lobby of the daily fantasy website that you are playing on to find these head to head leagues.
Head to Head Strategy
Based on the different game types available, you can decide which one is best for you. Are you going to try to grind out a profit over the long haul or are you going to take more chances and chase the big GPP's and Championships? In a head to head match, you are only playing against one opponent and to win that league all you have to beat is one other team. However, when you enter large field tournaments, you will be competing against hundreds or even thousands of opponents and cashing in these leagues are much more difficult. Knowing how many opponents you are facing and the variance associated with each should affect your strategy.
In a head to head match, you want to create a team that is has the potential to put up a good score, but is fairly safe at the same time. You you don't want to construct a team that is full of too many risks because an average score that day or week could easily beat your opponent in a head to head matchup. Whereas, in a large field tournament, you are going to need to construct a team that is full of more risks. To cash in a GPP, you typically have to finish in the top 10% of all entries. To do this, you need to take players that have high ceilings and are the boom or bust type of players.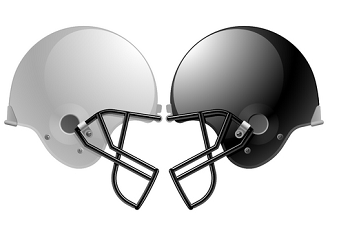 Here is an example: You are playing in an NFL league and you are comparing two different quarterbacks that are in the same price range. You are debating between taking Cam Newton and Andrew Luck. On the one hand, Newton can have those huge fantasy performances where he tops the 30 fantasy point mark, but he can also put up a dud and end up scoring less than 15 fantasy points. Luck, however, is a much more consistent fantasy QB. While he doesn't have the upside of Newton, he's much less of a risk and you can expect between 16-20 fantasy points.
I bring this up to point out two things: In a head to head matchup, Luck would be the better play because he is the more consistent of the two and has less variance in his fantasy production. But if you are playing in a GPP, Newton would be the better play because his ceiling is higher than Luck's. This situation is assuming that both matchups are equal.
Hand Picking Opponents
Now that we have the basics of a head to head covered, the next step is to learn how to hand pick your opponents. One of the biggest problems that new daily fantasy sports players have is that they get matched up against some of the best players in the business and they end up losing their bankroll quickly and then decide to never play again. There is nothing more off-putting to new players than to get smoked by a top player that has thousands of dollars in winnings.
Most new players do not realize this, but it is fairly easy for you to hand pick your opponents. This is a critical key to success for new players because they can find opponents that are on the same experience level. On almost every daily fantasy sports website, you can see who is in each head to head league; somewhere in the league description it will say the username of the player that has already joined each league. All you have to do is a quick search on that player and you can easily see their experience and decide if you want to play against them.
The easiest ways to research an opponent are to:
1) Click on the player's name from the draft lobby, some sites like FanDuel have it set up to take you to their profile when you click on the name. This will show you the player's total amount of winnings they have had on that site.
2) If you can't click on their name, go to the site leaderboard and do a quick search for that player's name, this will bring up his winnings as well.

These are three very quick ways to research your opponents that will definitely pay off for you in the long run. If you find an opponent without a lot of experience, join their leagues. You will be much better off than just blindly joining leagues and getting matched up with some of the top dogs in the industry.
Multi Matchup Blockers
As you start to get the hand of daily fantasy sports, you will most likely start to join more leagues each day. If you are a player that prefers the head to head format, you will usually like to diversify your opponents. Nothing is worse than joining 20 head to head leagues and having one of the big sharks in the industry come in and take all 20 of those matchups. You didn't join 20 different leagues to only have one different opponent; you joined that many leagues to play against 20 different people.
Shown below is DraftDay's description of their multi-matchup blocker tool

This is where the multi-matchup blocker really comes in handy. Every single one of the top daily fantasy sports websites has one of these, although they can be called different names. What this tool does is only allow an opponent to join one of your head to head leagues per buy-in level. So if you want to join 20 different $11 head to heads and you have this tool turned on, each player can only join one of your leagues. This is a great tool that should be used by all players that want to diversity their opponents.