Basic Lineup Building
When you are building a lineup, there are certain guidelines that you should follow to help you put together the best possible team that you can. We will go through each of those one by one. Although, building a lineup is more of an art than it is a science, there are only so many tips that you can hear, but at the end of the day, you have to make the decisions.
Develop a Routine
This was covered more in depth in the last lesson, but developing a routine can really help you produce much more consistent results in daily fantasy sports. When you get into a routine, especially with your research, you will be able to consistently find better plays and consistently build better lineups. For a much more in depth analysis, check out Lesson #4 of this course.
Look for Value
The most talked about aspect of daily fantasy sports is the matchups. It's always about which player is facing which team and why they make a good play, but one of the most underrated aspects is being able to find value. There could be a player that has a great matchup, but still doesn't make a good play because his salary is way too expensive. On the other hand, there could be a star player that has a bad matchup, but still makes a good play because he is underpriced on a certain site.
Value is very site specific because in order for a player to have value, he has to be a good play with respect to his salary. One of my favorite methods of finding value that is very easy to use is to set a goal.
Set a Goal
After you have played on a site for a while, you will know what a good score is in each sport. To make building a lineup and finding value easy, set a goal to score that amount of points each night and then determine what that means for each salary dollar. Here is a quick example. Say that you determine that a good score in baseball is 50 fantasy points and you have $100,000 as your salary cap. That means that for each $2,000 of salary, you want to score 1 fantasy point.
The calculation is very easy and is a good tool to keep in the back of your mind when you are making a lineup. If you see a player that is $10,000, that means that in order to get to your goal of 50 fantasy points, you need that player to score 5 fantasy points. It gives you a quick test to see if you think that player is a good play or not.
Spend Your Salary Wisely
If you are a brand new player to daily fantasy sports, one of the biggest problems that you will likely face is that you want to take all of the top name players. While the top players aren't necessarily bad plays, taking too many expensive players will leave you with hardly any salary cap left when you have to pick your last few players. Nothing is worse than picking a player just because you can't afford someone else. The best daily fantasy players in the industry find a way to assemble a team with players that they like at every position. A winning strategy is not to find a couple of players that you like and then plug in the rest of your team.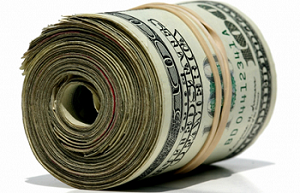 Another helpful tip with your salary is learning to be OK with having a little extra spending money left on the table once your lineup is set. If you build a team and then have a little salary left over, don't feel like you have to spend it. Most of the time the team that you put together will end up being better than when you change it up just to spend that extra money. I can't tell you how many times I've tried to spend that last little bit of salary and have had it come back to haunt me. I'm not talking about thousands of dollars here, but if you have a little extra, don't be afraid to leave it on the table.
Don't Be Afraid to Use the Experts
There are plenty of sites that have daily fantasy expert's picks and analyses, including RotoGrinders. Don't be afraid to use them to your advantage because all of your opponents are. A lot of people hate using other people's picks because they want to win on their own, but sometimes you just have to trust that you will be better off with a few of the expert picks.
That being said, just using expert picks isn't going to help you become a better fantasy player, it may help your bankroll in the short term, but to be a successful player in the long-term, you want to learn from the experts, not just copy them. Really pay attention to why the experts like certain players and ask yourself if you thought of those same reasons.
Don't Second Guess Yourself
If you have ever had the chat open, and I mean ever, then I'm sure you will see people saying "Gosh I had this player in my lineup and I switched him out at the last minute." This happens all the time, even to the experts. Sometimes when that clock is ticking down, you start to second guess the picks that you have spent all day putting together. Is it the pressure of being on the clock? I'm not sure, but I can't tell you how many times I have made last second changes and had it come back to bite me. Trust your research and trust your gut. If you can have your lineup set at least 5 minutes before leagues lock, you will do yourself a huge favor.
Next Lesson – NFL > Masters > Advanced Research >
Understanding Site Salaries