Breaking Down a Slate
Every slate is different.
If you read my MLB Edge articles on RotoGrinders, you probably hear me say this ('read me say this'?) all the time. Each slate is entirely unique, and this is one of the big edges we have in MLB DFS as knowledgeable players as we can look at a slate and quickly diagnose how we should attack it.
"But aren't slates totally different from one day to the next in other sports as well?"
Absolutely. But because of how heavily the single matchup of "pitcher versus lineup" weighs into MLB — because the course of an entire day's slate depends solely on the way in which the various pitchers match up with (and perform against) the various lineups — everything changes drastically from one day to the next.
An excellent lineup may be absolutely worth avoiding, simply because of the pitcher they are facing.
An excellent pitcher may not be worth the price of admission, simply because of the lineup he is facing.
And most importantly, a barely-average pitcher or hitter may be an excellent play on a particular slate, all because of the way in which that single matchup — a pitcher versus a lineup — shakes out.
Because of this — and because MLB is a daily sport (one in which we have to process, assess, and properly apply large amounts of information every single day, as opposed to NFL, where we have a week to prepare, or NBA, where there is far less "daily information to process," and because, furthermore, most of us are balancing our MLB preparation with family, job, crazy parties in the Swiss Alps, etc.) — the most important element in turning your knowledge of "predicting pitching" and "predicting hitting" into a comprehensive, consistently-winning piece is going to be your ability to look at a slate and break it down right away.
This is a large part of what we will be dealing with throughout this course, so labeling this specific lesson "Breaking Down a Slate" is a bit misleading. (Do you forgive me? Good.) But basically, this particular lesson provides an introduction to breaking down a slate, starting with an explanation of why being able to break down a slate is so important (done!) and continuing with a closer look at one of the main things you will need to deal with in quickly diagnosing and breaking down a slate. That main thing? The difference between small slates and large slates.
To read the rest of this lesson, you must purchase the course!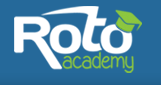 RotoAcademy offers one-of-a-kind, data-driven content to help you win.