Building an NBA Research Foundation
This will be the most important lesson out there for anyone who is new to the Daily NBA game. If you have background in some other daily fantasy games, such as baseball or football, a lot of these concepts will be familiar to you. If you don't have that background, don't worry! That's what this lesson is for, and we'll cover all the basics of NBA research here in this lesson.
NBA

Research Foundation Principle #1: Understand the Game
NBA is a more predictable fantasy game than some of the others out there. In baseball and hockey, even the best players put up "empty" games from time to time. In football, it's possible for a good player to get shut down too, either by a great defensive scheme, game flow, or some other way.
Basketball doesn't have a lot of these elements, and that can be used to your benefit. The great players are almost always going to get a good base amount of points, so there's less risk in paying up for a stud than there is in other sports. You'll see most players "pay up" for at least one stud player on a given night, and there is a lot of merit in doing this. This principle is simple enough — understanding how the game of basketball works is important.
NBA

Research Foundation Principle #2: Opportunity is Everything
The NBA game involves more substitutions than any other sport outside of hockey, so it's critical to understand that time on the court means everything. Minutes equal production; it's that simple.
There are several tools you can use to monitor opportunity. The daily research tools at RotoGrinders will show you minutes played per game and monitors changes in those minutes over the course of the season. I also like to look at recent box scores from all the NBA teams to get a feel for what they are doing with their rotations. Whatever method you choose, just make sure to keep track of the minutes that various players are playing.
NBA

Research Foundation Principle #3: Monitor Injury Reports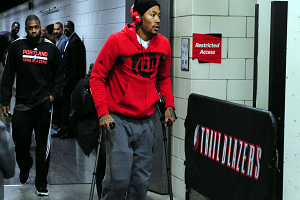 This principle is mission critical, and it becomes more critical in the latter stages of the season. Surprise injury scratches happen often, and they tend to happen at the last minute. It's critical to check updated news for your players as close as you can to roster lock.
Twitter is an invaluable research for this. Pop your players' names into Twitter and make sure there isn't any concerning news coming out. If you play on a site that allows late-game player swaps, monitoring this news is even more important. If you play on a site that does not have late game swaps, you'll get burned by this a time or two… but so will everyone else. (See Rudy Gay – he burned EVERYONE a time or two).
NBA

Research Foundation Principle #4: How to Construct Your Lineup
Everyone has a slightly different way of constructing their rosters, but there is one underlying theme: if you can afford expensive players, they are usually worth a good baseline of points.
How do you afford expensive players? You have to be able to find several value plays. On some nights, there are more value plays than others. For example, a few teams might have players who are out with injuries, which will thrust a low-priced backup into significant minutes. Finding a few of these guys allows you to pay up for a stud or two. On some nights, there aren't as many value plays, and those become the nights to construct a roster full of "mid-range" players with high upside. You have to feel comfortable building both types of rosters.
NBA

Research Foundation Principle #5: Choosing Individual Players
As far as filling out that roster with specific players, defense vs. position rankings are of gigantic importance. For example, in 2012 the Nuggets were absolutely terrible at defending opposing centers, so playing opposing centers against the Nuggets was a must almost every night.
Luckily, RotoGrinders has great tools that show you defense vs. position rankings on a daily basis. Also, my next piece here on RotoAcademy will be discussing that very topic… so there's a little tease for all of you to keep reading.
In sum, all of these principles are somewhat related. Basically the No. 1 key is to stay on top of player news and information. If you do that, you'll have a huge leg up on the uninformed and you'll be a step ahead of the game.