Common Bankroll Pitfalls
It's never fun to be the person who struggles with something. Whether you're the only kid on the block that isn't worth a hoot athletically (that's me!), whether you struggle to grasp a concept you are trying to learn, or whether your kids don't go to sleep when you put them to bed, it's never a fun spot to be in. At our core, we are all competitive. Some folks may hide it better than others, but we all like to get those competitive juices flowing. The hardest part is admitting when we have failed at something. Nobody likes to admit failure. All of these statements apply not only to life as a whole, but to daily fantasy sports. They can be especially painful when those lessons relate to your bankroll. Let's take a look at some common mistakes that almost every player makes at some point in their daily fantasy career.
To read the rest of this lesson, you must purchase the course!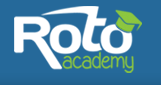 RotoAcademy offers one-of-a-kind, data-driven content to help you win.