How to Use PGA Statistics
Statistics are quickly becoming the talk of the town in the wonderful world of daily fantasy golf. They are a great indicator of future success, especially when you can determine which statistics are important for the course at which the event is being held each week. This lesson will cover three different types of golf statistics: general statistics, course-specific statistics, and DraftKings' specific statistics.
The hard part isn't gathering the statistics on each player; it's being able to decipher the information and use it to build better lineups. Not all courses are created equal as some favor accuracy, some favor short games, and some favor the long bombers. Researching the course beforehand is critical to identifying which stats are important to use that week. A quick Google search of the tournament will help you find which statistics you should be targeting each week.
My favorite site to use is for statistics is PGAtour.com. They have the most accurate stats of any site that I've found, and they are updated weekly. They also have hundreds of different statistics that can be broken down into any type of split that you are looking for (yardage, putting by distance, on or off the fairway, etc.).
To read the rest of this lesson, you must purchase the course!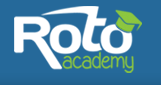 RotoAcademy offers one-of-a-kind, data-driven content to help you win.