Lesson 4: How to Construct Team and Game Stacks
DFS is always evolving, and one of the more popular tournament strategies is to stack certain teams and games. This lesson covers what you should be looking for when stacking teams and the benefits of playing lower-owned stacks.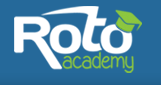 RotoAcademy offers one-of-a-kind, data-driven content to help you win.