Lineup Variance Based on Game Structure
Thus far, we have covered numerous topics about daily fantasy basketball. We've covered bankroll management, league strategy, and which research sites to use. We also have a comprehensive breakdown of variance, which is so crucial in daily fantasy sports, including how it should affect your league and opponent selections.
Today's lesson will dive a little deeper into the subject of variance as it relates to lineups, and how you can combat variance based on the type of league that you are in. No matter how many hours you spend building your lineups and no matter how perfect you think that your lineups will be, there is enough variance in daily fantasy sports that anything can happen on a nightly basis.
Your perfect team could easily get ruined by an injury, a bad outing, or even just missing out on a player that has a huge fantasy performance. DFS is a game of skill, but it is also a game of variance. Your goal in DFS should be to realize that variance is there and that you should take every measure to lower that variance wherever possible. Doing so can help you avoid the rollercoaster effect that most Grinders often feel.
How League Types Affect Variance
We've gone over this subject in other lessons, but it's important to realize that variance is different depending on the type of league that you are playing in. The reason for this is that the leagues all have different payout structures.
For instance, in a head-to-head or 50/50 game, half of the field cashes. However, most GPPs and large tournaments typically pay only the top 10 to 15 percent of entrants. Those leagues have more variance because it's simply harder to cash than it is in a 50/50 league. While the potential for bigger wins is there, so is the potential for long losing streaks.
Decreasing Variance in H2H Leagues
One way to decrease variance is to play in as many head-to-head games as you can against as many different opponents as possible. Almost all daily fantasy sports sites have a head-to-head matchup blocker which allows you to join leagues without the worry of one shark coming in and taking all of your action. If you turn on the head-to-head matchup blocker, you can essentially join as many leagues as you want and you are guaranteed that you will only face each opponent one time.
If you want to put $100 in play on a given night, don't join a $100 league. The variance in one single matchup is too high. Even if you had a great lineup, you could easily end up losing if you happen to get matched up with an opponent that has a better lineup. A better approach is to join as many head-to-head leagues as you can with that $100. Maybe join 20 leagues at $5 or 10 at $10. This will give you a much broader range of opponents and will decrease your overall variance.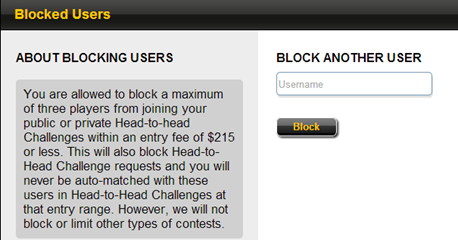 Varying Your Lineups in H2H and 50/50 Leagues
Another way to decrease your variance is to vary your lineups. A common question in the RotoGrinders forums is how many different lineups you should be entering each day. The answer isn't an easy one and it's not the same for everyone. For me, it comes down to two factors: the type of leagues that you are playing in and how you feel about variance.
When you are playing in head-to-head and 50/50 leagues, your strategy is to construct a team that is full of the best value at each position. You aren't trying to take a lot of risks because you only need to beat half of the field in order to cash. This strategy will lead you to create an optimal team. In order to be successful long-term, you need to use this optimal lineup against as many different opponents as you can. You don't want to spread yourself too thin by creating multiple lineups because the payouts for these leagues do not support this style of play. If you were to create five different teams to use in head-to-head leagues and only two of them cashed, it would be an overall losing night. While your variance would go down, your expected return would also go down. If you look across the industry, almost every expert suggests using the same lineup in all of your head-to-head and 50/50 leagues.
While I tend to agree that over the course of an entire season, using your optimal lineup in all of your head-to-head and 50/50 leagues is the better strategy in terms of being +EV, it does increase your variance on a nightly basis. I am one of the few players in DFS that doesn't mind having two slightly different rosters spread throughout my cash games. If you have a lot of action each night and want a little less variance, I suggest using two different lineups consisting of the same core group of players and maybe using one or two different players in each lineup. If it's one of those nights where you can't decide between Player A vs. Player B, maybe use Player A in half and Player B in the other half. Your teams will still have the same core of players.
Varying Your Lineups in

GPP

s
As we have discussed earlier, GPPs have more variance than a standard 50/50 league because the payouts are so top-heavy. We've also mentioned that from a +EV standpoint, you likely only want to use one lineup for you head-to-head and 50/50 games. However, when it comes to GPPs, using the same lineup more than once in the same league is a bad strategy if you are looking to decrease variance. Using multiple entries with the same team multiplies your risk and reward.
The only time that this strategy works is if you end up having one of the best lineups on the site and your multiple entries all cash. While I have seen this strategy work before, I have seen it fail more often. If you are looking to decrease your variance (especially in a high-variance league such as a GPP), then you should be looking to diversify your lineups.
Now that we know using multiple lineups in a GPP is a better overall strategy, the question becomes how much should you diversify each lineup? Should you use a core group of players and switch out a few players for each entry? Or should you cover your bases and try lineups that consist largely of different players?
I've seen both strategies work. Personally, when I am entering a big tournament or GPP, my goal is to cover my bases. A GPP takes such a perfect team to win that if you have one player that doesn't perform well and you have him in all of your lineups, it kills any chance of you cashing. If I have multiple entries in a GPP, I want at least one team to have a chance to win. Therefore, I diversify my lineups as much as possible.