Managing Your Bankroll
Bankroll management is critical to long-term success in daily fantasy sports, whether you play cash games or tournaments. You can be a winning player, but if you have bad bankroll management, you may end up with nothing to show for it. Everyone's bankroll management techniques are different and ultimately, you have to find a system that works for you. The key is to set strict rules and to stick to them.
My bankroll management philosophy is on the more conservative side. For a given slate of games, or in this case, for a single golf event, I will put into play up to 10 percent of my bankroll. The 10 percent includes all of my contests on all sites and it is the absolute maximum amount that I will put into play. Generally, I will put around five percent of my bankroll into play each night in the daily sports such as baseball or basketball, and then put five to ten percent of my bankroll into play in the weekly sports such as football or golf.
To read the rest of this lesson, you must purchase the course!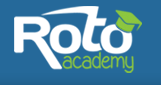 RotoAcademy offers one-of-a-kind, data-driven content to help you win.