NBA News Sources
If you are new to daily fantasy basketball, you will quickly learn that monitoring injuries in the NBA is probably the most important part of your daily routine. Injuries are very common in the NBA and if you aren't on top of the latest breaking news, you will quickly find yourself behind the 8-ball. I can't tell you how many times there have been late scratches already this season. It is critical for you to be able to find the latest player updates and use that information to adjust your lineups. Here are a few different sites and tools that you can use for your injury news:
RotoGrinders

NBA

Lineup Alerts
This is a feature of RG that has been a big hit among Grinders. The NBA Lineup Alerts basically does all of the hard work for you and then delivers it into your inbox every single day. While you do have to be an Incentives member to receive these alerts, you only have to be an Incentives member for one site and you are eligible to receive them.
To turn the NBA Alerts on, just click into your RG profile and then click on "Edit Email Options" under your profile picture. The popup shown below will appear and all you have to do is click the check box for "Send me Lineup Alerts."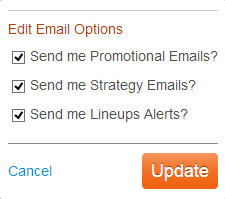 The RG NBA Lineup Alerts will send out an initial email at 5 PM ET every day that includes all of the projected lineups for that day's games. Under each lineup will also be a quick analysis of the top fantasy options for each team. After that, you will receive emails any time there is breaking injury news. If you don't have a lot of time to research injuries, this is the best case scenario for you because the information will be delivered straight to your inbox.
Rotoworld/Rotoinfo
If you prefer to do your own research or don't have access to the NBA Lineup Alerts, there are plenty of sites that you can use to keep you up to date with the latest player news. The top two sites that I use are Rotoworld and Rotoinfo. Both of these sites pride themselves in being leading information sources for player news and injuries and they are both very reliable.
You can go to either site and click on player news or player injuries. This is probably the easiest route to take if you don't have access to the Lineup Alerts and you don't have a ton of time on your hands. Both of these sites search the internet for the latest news and keep you posted as soon as they get confirmation from sources.
Twitter

Twitter is another great source for breaking injury news and is actually the fastest source for breaking injury news. You are basically getting your information straight from the source. The only problem with Twitter is that you have to know who to follow. To get the most reliable information, follow all of the teams' beat writers. You can easily find these by Googling "Bulls beat writer Twitter" and then do the same thing for the rest of the teams. While it is a lengthy process to follow all of these people, it is a time investment that will certainly pay off.
I would also suggest following as many people in the daily fantasy sports industry as possible because as soon as injury news hits, there are plenty of people in the industry that will either retweet the information or provide their analysis on the information. Twitter is a great tool to use and if you don't want to become victim of a last-minute scratch, this is your best solution.
Using Injuries to Your Advantage
The one thing that these news sources cannot do for you is decipher the information and help you build your NBA lineups. You have to be able to take the latest player news and quickly adjust your lineups. While it doesn't always pan out, the general rule in the NBA is that minutes equal production so if you see a starting player out for the game, his backup immediately sees a boost in fantasy value.
Being able to understand how injuries affect minutes and rotations will really help you in the long run. But as a beginner, finding the best value plays of the day with the latest injury news is a great start.