Price
Price is not an element that requires much of our attention in this course. Certainly, it is something you should be paying attention to each week in your roster-building (I mean… you kind of have to, right? You can't exactly build a roster without looking at price!), but it is not something that requires much explanation from me.
Ultimately, you are always likeliest to find that the pass catchers with the highest price tags are the guys who:
To read the rest of this lesson, you must purchase the course!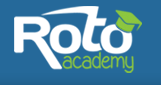 RotoAcademy offers one-of-a-kind, data-driven content to help you win.