Profitability in Daily Fantasy
One of the greatest perks of the daily fantasy game is the ability to become profitable and even take chances at earning massive paydays while playing a fantasy sports-based game. With major events now paying out as much as $1,000,000 to first place, you can chase massive paydays or grind out H2H and 50/50 games for a profit.
Now before we go any further, I have to make one thing clear. You can't just show up and be profitable in daily fantasy sports. Even if you're a veteran of season long fantasy leagues or a sports fanatic, you aren't guaranteed anything. I promise that if you go through the RotoAcademy courses, you will leave prepared to be a profitable daily fantasy player but you still need to put in the effort to research and study in order to win a high percentage of your games.
Daily fantasy sports accounted for $492 million of the $1.7 billion dollar fantasy sports industry in 2012, and that number is expected to double in 2013 1. With the daily fantasy realm expected to become a billion dollar industry in the next couple of years, there are ample opportunities for you to cash in on your knowledge of sports.
When daily fantasy first began, the tournaments were small and the player pool was smaller. In fact, the idea of playing daily fantasy as a profession is one that has only recently come to fruition. One of the first to make that move was Dinkpiece, whose story is outlined in this Wall Street Journal Article.
Beyond Dinkpiece, a number of others have been successful in hitting it big in daily fantasy. I'm fortunate enough to be on that list after taking down the 2012 FanDuel Fantasy Football Championship and carrying home a check from "The Big Check Store" showing a $150,000 prize. In the 2012 MLB season, FanDuel paid out $200,000 as their top prize for their baseball championship to our friend Pepsi7.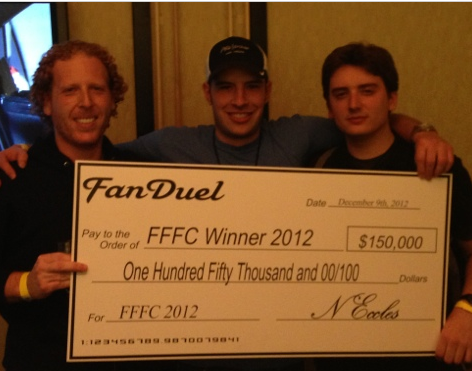 Then the 2013 NFL season came and the Football Championships exploded. DraftStreet was the first to announce a $1 million first place prize for their main event. FanDuel and DraftKings followed suit with $1 million to first tournaments of their own. Even smaller sites such as FanThrowDown, StarStreet, FantasyFeud and DraftDay have 6-figure payouts for major events in the 2013 NFL season.
RotoGrinders has been covering these events since the very beginning of DFS, so check out our Championship Coverage Page to see for yourself just how exponentially these tournaments have grown.
The big payouts are pouring in and as they continue to develop, the opportunity for you to turn your love for fantasy sports into cold hard cash grows with it. The tournaments are a huge draw for the casual fan, but you can also grind out high volumes of head to heads or 50/50 games to be a profitable daily fantasy player. To be profitable in those games, you typically have to win at about a 60% rate.
Regardless what type of game you decide to play, it's clear that the profitability aspect of daily fantasy sports is what's causing this meteoric rise in popularity. The idea of turning a dollar into $1 million separates DFS from season long games, and now is the perfect time to make the transition yourself.
1 – Wall Street Journal. Rich Fantasy Life: Sports Fans Dream of Making a Living Off Games by Ben Cohen
Next Lesson – NFL > UnderGrad > Game Types >
Head to Head Play