Talent
"Talent." For quarterbacks, it is the easiest mystery to unravel of the four we will be looking at (heck, it's really not even that much of a mystery at all). Because "talent, matchup, opportunity, and price" are the four core elements we are looking at with players at every position, however (which, you know, includes quarterbacks), we'll touch on it briefly anyway before strapping ourselves in for the deeper digging of the next few portions of this course.
There are a few ways in which you can evaluate "talent" in terms of quarterbacks.
To read the rest of this lesson, you must purchase the course!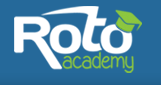 RotoAcademy offers one-of-a-kind, data-driven content to help you win.