Talent
I guess the best way to start this lesson is by saying:
Ultimately, it really doesn't matter that much. I mean… it matters. But really, it doesn't — not as much as matchup. Not as much as opportunity.
That's good, too. Because, honestly, it's sort of difficult to assess in the first place.
That's right: I'm talking about the talent of the wide receivers and tight ends you are considering.
To read the rest of this lesson, you must purchase the course!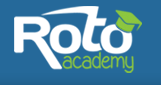 RotoAcademy offers one-of-a-kind, data-driven content to help you win.