The Basic Similarities Between NFL and NBA
While understanding the differences between NFL and NBA will be the primary element that helps you avoid the mistakes that can drain your bankroll, understanding the similarities between the two can help you translate the "positive elements" of your NFL play over to NBA.
"What if I don't have any positive elements to my NFL play?"
Hopefully you are not asking this question (if you are, it's time to dig into some of the RotoAcademy courses on NFL!), but even if you are, that's okay. Recognizing the similarities between the two sports will help you see how you can translate your NFL DFS knowledge over to NBA – and honestly, it will probably even help you chop away at that NFL losing that is currently making your bankroll look all sad and dreary.
To read the rest of this lesson, you must purchase the course!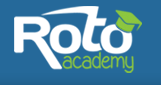 RotoAcademy offers one-of-a-kind, data-driven content to help you win.